Northeast forward McCanney makes NCAA commitment
June 28, 2021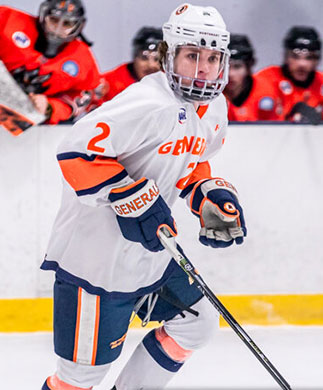 The Northeast Generals of the North American Hockey League (NAHL) are pleased to announce that forward Liam McCanney has committed to play NCAA Division III hockey for Stevenson University.
McCanney, 21, finished his career as the Generals all-time leader in games played and was at the top of almost every offensive category in Generals history.
After tendering out of the NAPHL (Valley Forge Minutemen) the 5'11/180 lbs. native of Aidan, PA played 165 games as a General and finished with 38 goals, 45 assists and 83 points. He played every game in both the 2019-20 and 2020-21 seasons.
The durability combined with his speed and skill allowed Liam to put up his best numbers in 2020-21 after improving each season. This past year he had 19 goals and 20 assists for 39 points.
Liam has his name all over the record book for the Generals:
1st in Games Played (165)
2nd in Goals (38)
3rd in Points (83)
5th in Assists (45)
"What Liam did for us was remarkable. He came to us out of the NAPHL and made an impact from day 1. In that first year he embraced his role as more of a defensive player. But he always used his speed to create scoring chances. Year 2 saw him take off offensively and he continued that trend this past year. What is remarkable about Liam is that as his offense improved he never cheated the D zone. He finished hits all over the ice, he was a monster on the PK, he blocked shots, and he kept pushing the pace. A great hockey player that also happens to be a great young man. A kid that made me a better coach and person and I am so proud to have had the opportunity to Coach him for his entire junior career. I love Tom and Dominick at Stevenson and they have been on Liam for years. It was a tough year D1 wise for many players and Liam got caught in that. But this is not a simple backup plan. This is a tremendous opportunity for Liam to go to a great school that has a great hockey program led by 2 men that will get a ton out of Liam. They do things the right way. Our former goalie Marko Sturma is there and just loves it. It's a great school that will allow Liam to continue to play high level hockey and get a great education. I am really proud of and happy for Liam. I am going to miss him," said Generals head coach Bryan Erikson.
Click here for an updated NAHL to NCAA commitment list