Top Prospects jersey auction ends Friday
June 25, 2021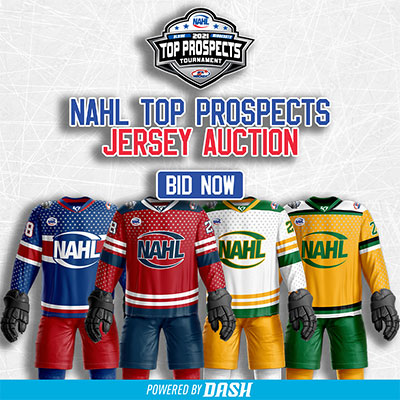 The North American Hockey League (NAHL) Top Prospects auction for the game-worn and autographed jerseys is in its final day. All 88 players who participated in the 2021 NAHL Top Prospects Tournament are having a set of jerseys auctioned off through NAHL League Partner, DASH (www.dashapp.io).
The 2021 NAHL Top Prospects Tournament was held on June 19-20, 2021, at Fogerty Arena in Blaine, MN.
While the players kept a set of their game-worn jerseys from the event, a duplicate set of commemorative game-worn jerseys was created by the NAHL's official jersey supplier, K1 Sportswear. Those jerseys were individually worn during the games on June 19th and then signed by each player at the event and now being auctioned off on DASH.
Auction Details: The auction will open on Friday, June 18th at 12:00pm (central) and run until Friday, June 25th at 2:00pm (central). The opening bid for each commemorative game jersey will be $200 and will be done in bid increments of $25.
Fans can take part in the auction by doing the following:
• Download the DASH app by texting the word 'DASH' to phone number: 66866
• Or, visit: https://web.dashapp.io/
"This is the fifth year of our partnership with the NAHL and we're happy to layer on another great program for the fans, NAHL teams, and league to connect through DASH. The Top Prospects Tournament is one of the best and most unique junior hockey events in the world and we're proud to have the opportunity to deliver a great auction experience for everyone involved, which features some incredible game worn jerseys from the event," said Jonathan Hufnagel, Founder and CEO of DASH Auction.
The 2021 NAHL Top Prospects Tournament featured a total of 88 players from the NAHL, who were spread amongst four teams that played in two games each during the event. Each of the teams consisted of an 22-man roster (13 forwards, 7 defensemen, 2 goaltenders).
The NAHL Top Prospects Tournament is one of the most highly scouted events of its kind. This season, over 100 scouts attended the event, which featured NHL teams and NCAA Division I schools. The event continues to provide the NHL and NCAA scouts in attendance with a look at the best uncommitted players the NAHL has to offer, as well as, some potential NHL Draft picks. It continues to be an important part of the NAHL event model, which is inclusive of the NAHL Showcase in September and the NAHL Robertson Cup National Championship in June.