Wings, Mudbugs battle for Robertson Cup on Tuesday
June 22, 2021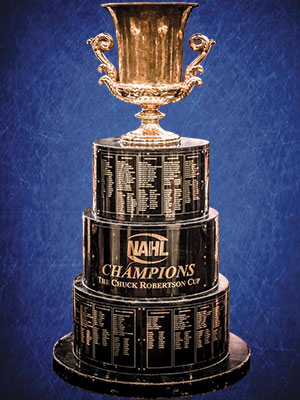 One game remains in the 2020-21 North American Hockey League season, and it is the biggest of them all… the 2021 Robertson Cup National Championship Game.
Face-off is scheduled for 7pm on Tuesday, June 22nd at Fogerty Arena in Blaine, MN. The match-up will be a battle against the Central Division Champion Aberdeen Wings against the South Division Champion Shreveport Mudbugs.
Both teams swept their respective Semi-Final series with wins on Friday and Saturday. The Wings defeated the Minnesota Magicians by scores of 5-1 and 2-1, while the Mudbugs defeated the Maine Nordiques by scores of 4-1 and 5-1.
It is familiar territory for both teams and is a match-up of the last two Cup Champions, with the Wings capturing it in 2019, and the Mudbugs winning the Cup in 2018.
Just 17 teams have won the Robertson Cup since it was first awarded in 1976 and 2021 will be the 45th time the league has awarded it to its National Champion.
TICKETS: Tickets for the 2021 NAHL Robertson Cup National Championship Game are sold at the Fogerty Arena Box Office beginning at 6:00pm.
For more information on the event, please visit www.robertsoncup.com
The game will be broadcasted live and in HD on HockeyTV
2021 NAHL Robertson Cup Schedule (all times central)
Friday, June 18, Game 1: Aberdeen 5 vs. MN Magicians 1 | Shreveport 4 vs. Maine 1
Saturday, June 19, Game 2: Aberdeen 2 vs. MN Magicians 1 | Shreveport 5 vs. Maine 1
Tuesday, June 22: Robertson Cup National Championship Game, 7:00pm
Overtime Note: During the Robertson Cup Championship, if the score is tied after three periods of play the following shall take place: Teams shall return to their dressing room and the ice shall be resurfaced. A fifteen-minute intermission shall take place. A twenty-minute, sudden death, overtime period shall be played with 5 skaters a side. The game shall terminate upon a goal being scored and the Club scoring declared the winner. If no goal is scored, the same procedure as above shall be repeated until a winner has been determined.
The Robertson Cup is awarded to the national playoff champion of the NAHL. The oldest junior hockey trophy in the United States, the Robertson Cup is named in honor of Chuck Robertson, a pioneer of junior hockey in the NAHL and youth hockey in the state of Michigan. Robertson was the owner of the Paddock Pools Saints when they won a record seven straight championships from 1976-83.
Previous Robertson Cup Champions
2019 Aberdeen Wings
2018 Shreveport Mudbugs
2017 Lone Star Brahmas
2016 Fairbanks Ice Dogs
2015 Minnesota Wilderness
2014 Fairbanks Ice Dogs
2013 Amarillo Bulls
2012 Texas Tornado
2011 Fairbanks Ice Dogs
2010 Bismarck Bobcats
2009 St. Louis Bandits
2008 St. Louis Bandits
2007 St. Louis Bandits
2006 Texas Tornado
2005 Texas Tornado
2004 Texas Tornado
2003 Pittsburgh Forge
2002 Compuware Ambassadors
2001 Texas Tornado
2000 Danville Wings
1999 Compuware Ambassadors
1998 Compuware Ambassadors
1997 Springfield Jr. Blues
1996 Springfield Jr. Blues
1995 Compuware Ambassadors
1994 Compuware Ambassadors
1993 Kalamazoo Jr. K Wings
1992 Compuware Ambassadors
1991 Kalamazoo Jr. K Wings
1990 Compuware Ambassadors
1989 Compuware Ambassadors
1988 Compuware Ambassadors
1987 Compuware Ambassadors
1986 Compuware Ambassadors
1985 St. Clair Falcons
1984 St. Clair Falcons
1983 Paddock Pools
1982 Paddock Pools
1981 Paddock Pools
1980 Paddock Pools
1979 Paddock Pools
1978 Paddock Pools
1977 Paddock Pools
1976 Little Caesars