Central Division wins 2021 Top Prospects Tournament
June 20, 2021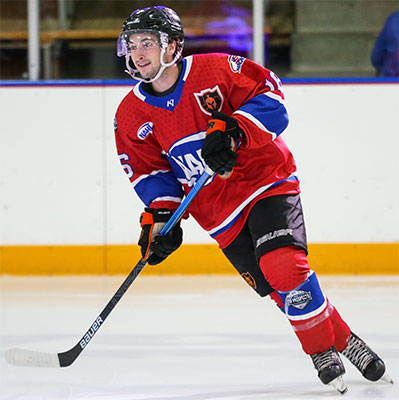 The final day of the 2021 NAHL Top Prospects Tournament took place on Sunday, June 20th at Fogerty Arena in Blaine, MN.
Over 100 NHL and NCAA scouts checked in during the event, and provided those in attendance with a look at the best uncommitted players the NAHL has to offer, as well as some potential NHL Draft picks.
Day 2 Recaps
Team South 7 vs. Team Midwest 2 - Team South finished with a 1-1 record thanks to a convincing 7-2 win over Team Midwest in the opening game on Sunday. South opening up a 3-0 lead in the 1st period with goals from Carter Rapalje (Amarillo), Thomas Weis (Wichita Falls), and Evan Werner (New Jersey). Midwest would respond in the 2nd period, scoring two straight goals to make it a 3-2 game as Cal Mell (Janesville) and Brett Chorske (St. Cloud) lit the lamp. From that point on, it was all South as Brady Smith (Lone Star) and Vincent Corcoran (Wichita Falls) would score later in the period to make it a 5-2 game. In the 3rd period, the South added on two more goals, which included tallies from Ryan Coughlin (Amarillo) and Ethan Schmunk (Minot). Both South goalies were solid in the win as starter Owen Bartoszkiewicz (Wichita Falls) stopped 14 of 15 shots and Owen Parker (New Mexico) made 13 saves on 14 shots. For the Midwest, Sam Evola (Johnstown) made 9 saves on 12 shots and Owen Millward (Janesville) made 17 saves on 21 shots.
Team Central 4 vs. Team East 0 – Team Central captured the 2021 NAHL Top Prospects Tournament title thanks to their second win of the event as they beat Team East, 4-0. The Central went ahead 1-0 thanks to a 1st period goal from Isaac Henkemeyer-Howe (Bismarck), who potted home a rebound. It was Henkemeyer-Howe scoring again early in the 2nd period to make it 2-0 as he stuck with his own rebound to put home a sharp angle shot. Later in the 2nd period, the Central made it 3-0 as Quinn Rudrud (Bismarck) got behind the defense and fired a shot that just snuck through the goalies equipment and over the goal line for a 3-0 lead after two periods. Team Central then secured the win and Top Prospects title in the 3rd period as Jay Buchholz (Minot) scored on a breakaway to make the final score, 4-0. Team Central goalies Josh Langford (St. Cloud) and Andrew Takacs (Amarillo) combined for the shutout with Langford making 10 saves and Takacs making 12 saves. For the East, Anton Castro (Northeast) made 16 saves on 19 shots and Michael Morelli (Maryland) made 6 saves on 7 shots.