Magicians win Midwest to punch ticket to the Robertson Cup
June 13, 2021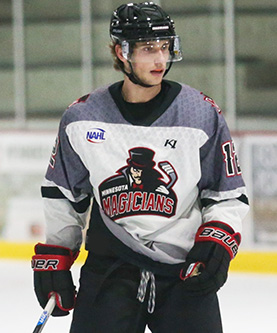 Midwest Division Finals, Game 5: Kenai River 2 @ MN Magicians 3 (Minnesota wins series, 3-2) – The Minnesota Magicians become the fourth and final team to punch their ticket to the 2021 NAHL Robertson Cup Championship as they built an early lead and held off a late Brown Bears rally to win Game 5 of the Midwest Division Finals, 3-2 on Sunday night. The win secured the Magicians' first ever Divisional Playoff title and they will be the #4 seed heading into the Robertson Cup.
The Magicians seized control in the 1st period jumping out to a 2-0 lead. Michael Ferrandino opened the scoring halfway through the period with his first goal of the playoffs. That was followed by a goal from Devlin McCabe, who scored his 3rd goal of the playoffs to make it 2-0.
In the 2nd period, the lead increased to 3-0 as Trevor Kukkonen potted home a rebound for his 2nd goal of the playoffs in what would be the eventual game-winner. As they had all playoffs long, the Brown Bears showed resolve and did not give up. Before the end of the period, Peter Morgan scored to make it a 3-1 game after two periods.
In the 3rd period, the Brown Bears cut the lead down to a goal at 3-2 as Max Helgeson scored his league-leading 5th goal of the Robertson Cup Playoffs. However, the Magicians and goalie Andy Beran held the fort the rest of the way to hang on for the one-goal win.
Beran made 33 saves in the win, while Luke Pavicich made 34 saves in the loss.