Wings and Mudbugs punch tickets to Robertson Cup
June 12, 2021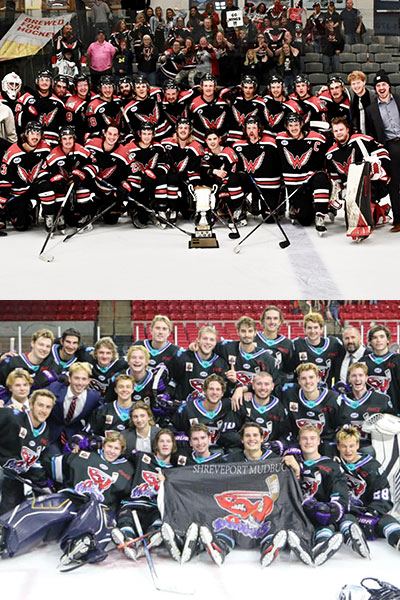 Central Division Finals, Game 3: Aberdeen 3 @ Bismarck 1 (Aberdeen wins series 3-0) - The defending champions are headed back to the Robertson Cup. The Aberdeen Wings finished off the sweep of the Bismarck Bobcats as they grabbed the win in Game 3 by a score of 3-1. Braden Costello tipped home a shot from Jon Bell to give Bismarck their first lead of the series and they would take that slim lead into the intermission. Just under seven minutes left in period two and it's Will Arquiett netting the equalizer with his third of the postseason. Less than two minutes later, Jordan Randall lights the lamp for the first time in the playoffs and Aberdeen has a 2-1 lead just like that. In the final frame, Jake Goldowski finds the back of the net and the Wings would shut it down from there, as Jake Sibell stops 19 shots in all and the Wings complete the sweep. Ian Shane would stop 21 of 24 shots fired his way.
South Division Finals, Game 3: Shreveport 4 @ Wichita Falls 2 (Shreveport wins series 3-0) - Dawson Sciarrino broke free with just 39 seconds remaining and buried the series winning goal as the Mudbugs beat Wichita Falls 4-2. The Warriors took the first lead of the game late in the opening period as Thomas Weis scored his third of the postseason. Shreveport would score two in the second period to take the lead after 40 minutes of play. Austin Brimmer and Braiden Dorfman were the goal scorers. Late in the third, down by one, the Warriors sent the home crowd into a frenzy as Marcus Frantz scored with just 2:34 left to tie the game. That setup the game winner from Sciarrino, who caught a pass at center ice, made his man miss to get a breakaway and then buried the game winner top shelf past Owen Bartoszkiewicz. Matt Weber added an empty goal in the final seconds as the Mudbugs advance to the Robertson Cup semifinals finals for the first time since 2018. Cole Hudson stopped 20 of 22 shots while Bartoszkiewicz ended his remarkable rookie season with 23 saves.
Midwest Division Finals, Game 3: MN Magicians 0 @ Kenai River 2 (Minnesota leads series 2-1) - The Kenai River Brown Bears have forced a Game 4 after Luke Pavicich delivered his best performance of the postseason, a 32 save shutout, as the Brown Bears defeated the Magicians 2-0. Max Helgeson scored the first goal of the game with just 5:02 remaining in regulation to give Kenai River the lead. Gramm McCormack netted the insurance tally just minutes later to seal the win for the Brown Bears. Andy Beran stopped 28 saves in the loss for the Magicians.