Nordiques win East to advance to Robertson Cup Championship
June 10, 2021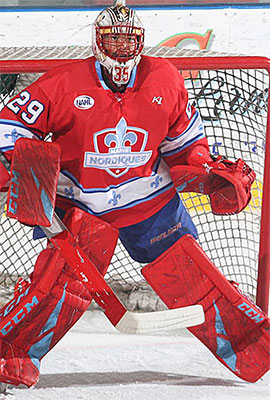 East Division Finals, Game 3: Maine 4 @ Maryland 1 (Maine wins series, 3-0) – The Maine Nordiques became the first team to punch their ticket to the 2021 Robertson Cup Championship as they defeated Maryland 4-1 on Thursday night in Game 3, completing a series sweep of the Black Bears. The Nordiques were again led by their goaltender Tyriq Outen, who made 29 saves in the win, allowing just one goal for the third straight game against the Black Bears.
Maine got off to a fast start as Andrew Noel scored his first goal of the playoffs less than five minutes into the contest. The Black Bears would respond five minutes later with their lone goal of the contest from Hunter McCoy, who scored his second goal of the playoffs.
The Nordiques took the lead for good as defenseman Matt Connor scored late in the 2nd period to make it 2-1.
In the 3rd period goals from Jack Strauss and Caden Pattison secured the win and series for the Nordiques, who will be making their first ever Robertson Cup Championship appearance.
Isaiah Fox, Jackson Vercellono, and Stefan Owens all ended up with two assists in the game. Maryland goalie Hannes Kollen made 30 saves in the loss.