Wilderness, Ice Wolves claim inaugural Prospects Challenge titles
May 31, 2021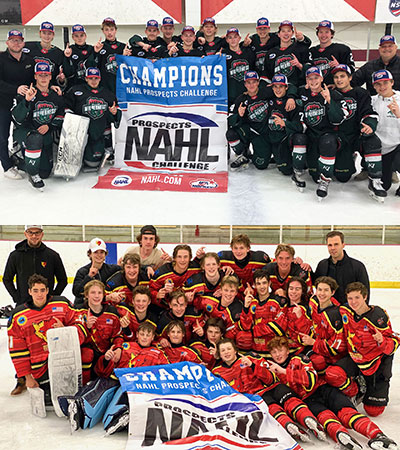 The new NAHL Prospects Challenge came to a close on Sunday, May 30 with the Semi-Final match-ups first thing in the morning and the Championship Games later that day. The event takes place from May 28-30, 2021, at the NSC Super Rink in Blaine, Minnesota.
Download the all new NAHL App today! (iOS - Google Play) for rosters and schedules
The NAHL Prospects Challenge is an extension of the NAPHL Fall League, in which 18U and 16U teams, will be put together and represented by NAHL teams. The NAHL Prospects Challenge was strategically designed to take place during an extended holiday weekend under one roof, which will allow more NAHL teams to participate and attract prospects from a greater geographical area.
The event is designed to maximize exposure for the players and bring together teams for likeminded and enhanced competition. Each NAHL member club will be eligible to enter one 18U team and one 16U team in the event.
Day 3 Recaps
In 18U play, the Wilderness were the first to punch a ticket to the final with a comfortable 6-1 win over Northeast, carried by a two-goal outing by Cooper McLure and four total tallies in the final 40 minutes. Odessa dominated the other semi-final, topping Minot 6-3 on the strength of Bennett Koupal's third-period hat-trick. The championship tilt had a bit of everything — after Minnesota raced out to a 3-0 advantage in the first 20 minutes, Odessa responded by outscoring the Wilderness 4-1 in the final 40 minutes to make it a 4-4 game through regulation time. In the deciding shootout, though, it was Minnesota's Kaden Nelson landing the knockout punch to give the Wilderness the title by a 5-4 margin.
The 16U division featured New Mexico, Janesville, Chippewa and Odessa dueling for the two championship spots. New Mexico eased past Janesville in the first semi, with Jack Glover scoring twice to lead his team to victory. Chippewa faced a tense battle with Odessa in its matchup, but Robert Bird's first-period tally held up as the game-winner to see the Steel through to the final. As they did in the earlier tilt, though, the Ice Wolves proved too strong, as they cruised past Chippewa 6-1 to take the championship. Reese Shaw paced the win with a hat-trick, as New Mexico poured it on late in the contest.