Prospects Challenge moves onto final day
May 30, 2021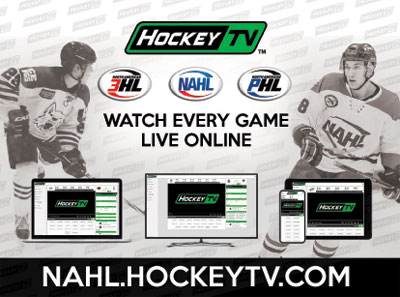 The new NAHL Prospects Challenge continued on Saturday with a jam-packed schedule of games, which included the 16U quarter-finals in the afternoon. The event takes place from May 28-30, 2021, at the NSC Super Rink in Blaine, Minnesota.
Watch all games live on HockeyTV
Download the all new NAHL App today! (iOS - Google Play) for rosters and schedules
The NAHL Prospects Challenge is an extension of the NAPHL Fall League, in which 18U and 16U teams, will be put together and represented by NAHL teams. The NAHL Prospects Challenge was strategically designed to take place during an extended holiday weekend under one roof, which will allow more NAHL teams to participate and attract prospects from a greater geographical area.
The event is designed to maximize exposure for the players and bring together teams for likeminded and enhanced competition. Each NAHL member club will be eligible to enter one 18U team and one 16U team in the event.
Day 2 Recaps
18U Division: Another round of 15 games highlighted Saturday's 18U action, setting the semi-final field once the dust settled. Northeast clinched the first semi-final spot with a tense 1-0 win over Austin, as Hayden Walters netted the deciding tally late in the third, and a 3-1 win over Lone Star later on in the day. Odessa followed soon after with a 6-3 win over Fairbanks, led by a strong finish with three goals in the third, and a 4-0 shutout of Minot. Minot itself then eased into the final four with a dominant 11-0 victory over El Paso despite the later loss to Odessa, and the Wilderness snapped up the final spot with a 5-0 shutout of New Mexico and a 3-0 goose-egg against Springfield. Tomorrow's matchups will feature Minnesota taking on Northeast and Minot again dueling with Odessa, with the winners battling for the title at 11:30.
Elsewhere around the 18U division, Janesville rode three third-period tallies to a 3-1 win over Lone Star, Chippewa's Blake Polifka scored twice to lead his team to a 4-1 win over Springfield, and Maryland dumped New Mexico 5-1. The Jets then made it two wins in two games on the day with a 2-0 shutout of Kenai River, and Milwaukee held off El Paso for a 5-3 decision. Capping things off, Kenai River rode a trio of first-period tallies to a 3-1 win over Austin, Fairbanks flexed some muscle to top Milwaukee 12-1 and Chippewa took a 4-3 thriller over Maryland thanks to Khyle Flynn's shootout heroics.
16U Division: The 16U division also determined its semi-finalists on Saturday, with Janesville, New Mexico, Chippewa and Odessa moving on to tomorrow morning's tilts. The Jets advanced with a 2-1 win over Odessa (SO) and a 6-1 victory over Springfield, while their semi-final opponent, New Mexico, took a 6-3 win over Northeast and 3-2 shootout decision over Fairbanks to punch its ticket into the final four. Chippewa knocked off Austin 5-2 and Maryland 3-2 in a shootout to clinch the third spot, and Odessa sealed things up with a bounce-back 4-2 win over Minot after dropping the earlier game to Janesville.
Elsewhere in 16U play, Maryland opened the day with a 4-1 win over Kenai River, with a quick start guiding the Black Bears' victory. Fairbanks edged out Springfield in a 6-5 shootout thriller, while Minot dealt El Paso a 5-1 loss after scoring four in the final 40 minutes. Austin bounced back from its earlier loss to oust El Paso 5-0, and Northeast did the same to top Kenai River 4-3 in a shootout.