Plenty of action on Day 1 of NAHL Prospects Challenge
May 29, 2021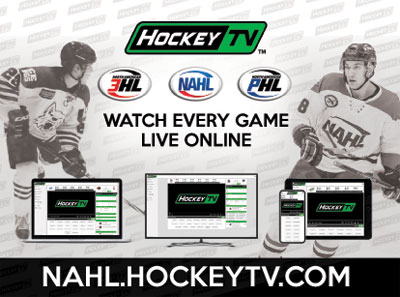 The new NAHL Prospects Challenge faced off on Friday with the opening round of games. The event takes place from May 28-30, 2021, at the NSC Super Rink in Blaine, Minnesota.
Watch all games live on HockeyTV
Download the all new NAHL App today! (iOS - Google Play) for rosters and schedules
The NAHL Prospects Challenge is an extension of the NAPHL Fall League, in which 18U and 16U teams, will be put together and represented by NAHL teams. The NAHL Prospects Challenge was strategically designed to take place during an extended holiday weekend under one roof, which will allow more NAHL teams to participate and attract prospects from a greater geographical area.
The event is designed to maximize exposure for the players and bring together teams for likeminded and enhanced competition. Each NAHL member club will be eligible to enter one 18U team and one 16U team in the event.
Day 1 Recaps
18U Division: The 18U division kicked off with 15 games on Friday. Austin started the day with a 5-0 shutout of Lone Star, riding five different scorers to victory. Northeast then took a narrow 2-1 shootout win over Kenai River, before Minot tallied three in the third to knock off Fairbanks 4-1 and the Wilderness posted a two-goal third to top Chippewa 3-1. Later on, Maryland erupted for a 7-1 win over Springfield, buoyed by two goals apiece from Joe Gerebi and Ty Broten. Odessa then shut down Milwaukee 4-0, Lone Star held off Kenai River for a 3-1 win of its own and Janesville won a shootout thriller over Austin, 4-3.
In the later games, Chippewa bounced back from its earlier loss with an 8-2 decision against New Mexico, while Fairbanks did the same with a comfortable 8-0 shutout of El Paso. The Wilderness stayed hot to blank Maryland 3-0, and Minot received goals from seven different skaters in a 7-1 romp past Milwaukee. Capping things off for the day, Northeast eased past Janesville 5-2 after scoring four goals in the first 40 minutes, Springfield toppled New Mexico 4-2 behind Easton Harrison's pair of goals, and Odessa closed things out with an 8-0 statement win as Tyler Bishop tallied twice.
16U Division: It was a busy first day of 16U action, with 12 games on the docket. New Mexico got things going with a bang as the Ice Wolves took down El Paso 8-0 thanks in part to a Wes Berg hat-trick, followed by an 11-1 romp for Minot past Northeast and a 6-3 win for Fairbanks over Kenai River, led by Jackson Ernst's two tallies. Maryland and Springfield went down to the wire, with the Black Bears pulling out a 5-4 win in a shootout. Austin then edged out Janesville 4-3 on the strength of three goals in the first 22 minutes, before Chippewa ousted Odessa 5-4 in a shootout, Northeast netted three goals in the second period to hand El Paso a 5-2 loss and Minot made it a perfect 2-for-2 on the day with a 4-2 win over New Mexico.
Finally, Springfield erased an early deficit with three goals in the final 40 minutes for a 3-1 win over Kenai River, Maryland finished strong with a three-goal third to drop Fairbanks 5-3, Odessa rode goals from five different skaters to a 5-1 win over Austin and Janesville ended the day with a goose-egg, blanking Chippewa 3-0 with a goal in each frame.