Black Bears take series lead over Tomahawks with Game 3 win
May 27, 2021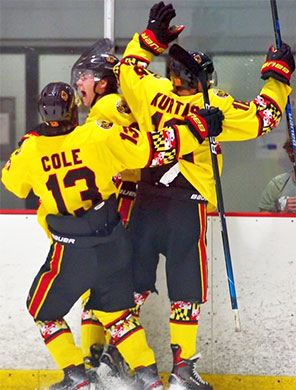 East Division Semi-Finals, Game 3: Johnstown 2 @ Maryland 3 (Maryland leads series, 2-1) - The Maryland Black Bears defeated the Johnstown Tomahawks 3-2 on Wednesday night in Game 3 of the East Division Semi-Finals of the Robertson Cup Playoffs.
The Tomhawks got off to a good start, playing tight defense and jumping out to a 2-0 lead. Exactly ten minutes into the opening period, Brendan Clark scored his second goal of the playoffs and getting the Tomahawks on the board first, taking the 1-0 lead.
Midway through the 2nd period, Will Margel netted his first of the playoffs, putting the Tomahawks up 2-0. Four minutes later, the Black Bears break through as Hunter McCoy scored his first of the playoffs also to get Maryland on the board to make the score 2-1 with just over two minutes remaining in the period.
The Black Bears completed the comeback in the 3rd period as Josh Nixon found the back of the net on the power play to tie the game up at 2-2 for the Black Bears 1:10 into the period. In the final moments of the 3rd period, Conor Cole dangled his way through the high slot and sent a nifty pass to Brad McNeil who scored the game-winner for the Black Bears with only 3:07 remaining in regulation to take the lead by a score of 3-2.
Hannes Kollen made 28 saves in the win for Maryland, while Johnstown goalie Sam Evola made 27 saves in the loss.