Bobcats sweep Wilderness to move onto Central Finals
May 26, 2021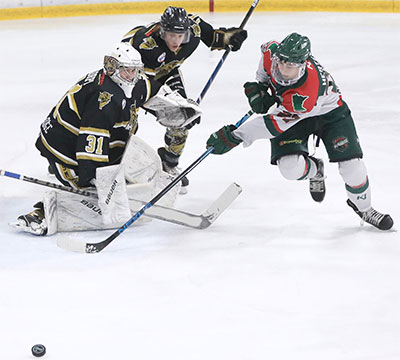 Central Division Semi-Finals, Game 3: Bismarck 5 @ MN Wilderness 4 (Bismarck wins series, 3-0) – The Bismarck Bobcats became the second of eight teams to punch their ticket to the Division Finals as they got goals from five different players in a 5-4 road win in Game 3 of the Central Division Semi-Finals on Tuesday night, sweeping the series.
The two teams traded goals in the opening period as the Wilderness scored first on a goal from Zach Michaelis. The Bobcats would answer later in the period thanks to a power play goal from Luke Gamer.
The power play continued to click for the Bobcats in the 2nd period as they took a 2-1 lead on a power play goal from Ryan Taylor just :22 seconds into the period. The Wilderness would tie the game later in the period as Will Traeger scored his first goal of the series. The Bobcats would regain the lead later in the period thanks to their third power play goal, this time from Lars Rodne to make it 3-2.
In the 3rd period, the Wilderness were in catch up mode after Bismarck made it 4-2 on a goal early in the 3rd period from Nico Chmelevski. The Wilderness cut the lead down to 4-3 thanks to a power play goal from Mikol Sartor. The Bobcats scored the eventual game-winner thanks to Tim Piechowski's third goal of the series, which made it 5-3. Donte Lawson scored a late goal for the Wilderness to make it 5-4, but that would be the end of the scoring.
Bobcats goalie Cameron Korpi made 31 saves in the win, while Wilderness goalie Kaleb Johnson made 20 saves in the loss.