Nordiques ride shutout from Outen to win Game 1
May 21, 2021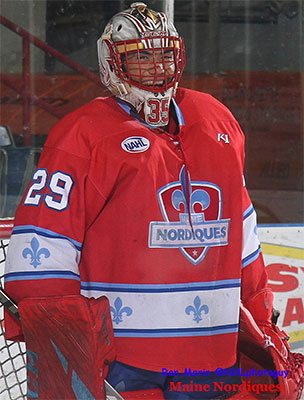 East Division Semi-Finals, Game 1: New Jersey 0 @ Maine 1 (Maine leads series, 1-0) – In a classic goaltending duel in the opening game of the 2021 NAHL Robertson Cup Playoffs, it was a 39-save shutout from Tyriq Outen that proved to be the difference as the Nordiques used a late 3rd period goal to top the Titans in Game 1, 1-0.
Both Outen and New Jersey goalie Christian Stoever were spectacular throughout the game with Stoever making 17 saves in the 1st period, while Outen made 13 saves.
In the 2nd period, things opened up a bit with a couple of penalties, but the man-advantages were thwarted by the goalies with Stoever making 12 saves and Outen making 11 saves.
The saves continued late into the 3rd period when the Nordiques finally struck as a 2-on-2 rush up the ice led to a shot from Maine's Matt Connor. The shot was saved by Stoever, but the rebound came right to Nordiques forward Stefan Owens who gloved down the rebound out of the air, put it on the ice, and then slammed home the rebound. Isaiah Fox picked up the other assist on the lone goal of the game.
Stoever would end up with 38 saves in the loss.