Amarillo defenseman Dal Monte makes NCAA commitment
May 20, 2021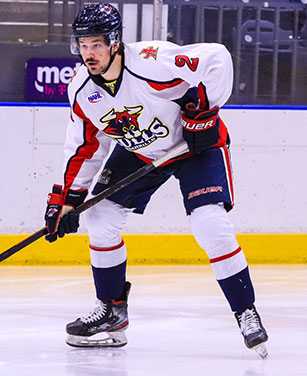 The Amarillo Bulls of the North American Hockey League (NAHL) are proud to announce that defenseman Mattias Dal Monte has committed to play NCAA Division III hockey for Utica College.
"Utica is an outstanding academic opportunity and a great hockey program," Dal Monte said. "I'm very excited to continue my education and hockey career for such at Utica College."
Dal Monte, 20, was a late addition for the Bulls blue line, but immediately had an impact when he scored a tying goal in his first game for the Bulls. Dal Monte has three goals and four assists for Amarillo during the 2020-21 regular season.
"We are thrilled to be able to announce Mattia's commitment to Utica College," said Bulls Head Coach Rocky Russo. "Mattias has had a tremendous effect on our team both on the ice but also as a leader, he will be a great addition to the Utica community and hockey team."
In 36 games with Amarillo, the 6'4/210 lbs. native of Nanaimo, BC, has shown a scoring touch and a knack for the physical aspect of the game. This combination has made him a stabilizing force on the Amarillo back end.
The UC Pioneers are members of the United Collegiate Hockey Conference and have been playing hockey since the 2001-02 season. In the 2019-20 season the Pioneers had a 25-2-2 before the COVID-19 pandemic forced the UCHC to cancel the playoffs.
"Coach Heenan and his staff are excellent coaches and mentors of young men, so I know Mattias will be in excellent hands," Coach Russo said. "He will also have an opportunity to pursue a top-notch degree while competing for a National Championship year in and year out."
Dal Monte played in the MJHL and the BCHL before arriving in Amarillo. His strong play on the blue line helped the Bulls earn a spot in the 2021 Robertson Cup Playoffs.
"I'm very grateful to the entire Amarillo Bulls organization for helping me achieve this dream," Dal Monte said. "I'm looking forward to pursuing a Robertson Cup with our team."
Click here for an updated NAHL to NCAA commitment list