NAHL announces Bauer Hockey Stars of the Week
May 17, 2021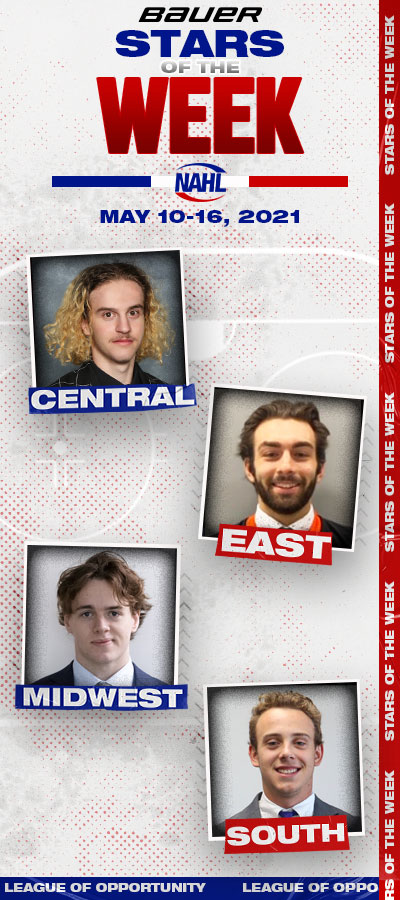 The North American Hockey League (NAHL) today announced the Divisional Stars of the Week presented by Bauer Hockey for the week ending May 16, 2021. The Divisional Stars of the Week is a weekly feature during the 2020-21 regular season that honors the top performing players in each of the four NAHL divisions. Only players that are nominated by their respective teams are considered for the Divisional Players of the Week award.
Watch: NAHL Stars of the Week highlights for May 10-16
Central Division Star of the Week: Natan Vertes, Forward, Aberdeen Wings
Aberdeen Wings forward and Alaska-Fairbanks recruit Natan Vertes, 20, had a big final weekend to help the Wings to a weekend home sweep of Minot and in the process help his team establish new single-season records for wins and points. On Friday, the 5'10/165 lbs. native of Budapest, Hungary, had four goals and an assist in a 10-1 win. On Saturday, he potted another goal for a six-point weekend in a 4-1 win. For the season, Vertes was 4th in team scoring with 47 points in 56 games played and his 28 goals led the team. "Natan has been playing some of his best hockey as of late. He possesses the ability to be a game changer, while being an outstanding teammate. Natan's weekend is a byproduct of how hard he has been continually working on his game," said Wings head coach Scott Langer.
2nd Star: Jacob Zacharewicz, G, Minnesota Wilderness
Honorable Mention (alphabetical): Nico Chmelevski, F, Bismarck Bobcats - Clayton Cosentino, F, Aberdeen Wings – Braden Costello, F, Bismarck Bobcats – Christian Galatz, F, Minnesota Wilderness – Peter Jacobs, F, Austin Bruins – Connor Mylymok, F, Austin Bruins
East Division Star of the Week: Valentino Passarelli, Forward, Danbury Jr. Hat Tricks
In five games this past week, Danbury forward Valetino Passarelli, 21, made his final junior games count as he put up nine points during the week. The 5'9/180 lbs. native of Macomb, MI, who finished his career with 178 career games played in the NAHL, was held scoreless in the first game of the week, but the next day he posted two goals and an assist in a 5-1 win over the Northeast Generals. He then posted an assist in a 2-1 loss at Johnstown on Friday, which was followed by a goal an assist in a 6-5 OT loss on Saturday and a hat-trick in his final junior game on Sunday in a 5-4 loss. For the season, Passarelli led the Jr. Hat Tricks in scoring with 35 points in 52 games played. "We are thrilled that Valentino was able to finish off his junior career on a positive note. Even though we found ourselves out of the playoff picture, he was determined to finish the season the right way. He is an honest player and has been a tremendous leader for us all year. It was great to see him play with confidence, speed and tenacity down the stretch. He set a great example for our younger players and that is a testament to the type of person he is and how valuable he was to our team," said Danbury head coach Billy McCreary.
2nd Star: Daniel Tkac, F, Johnstown Tomahawks
Honorable Mention (alphabetical): Gabe Dombrowski, F, Danbury Jr. Hat Tricks – Hugo Haas, G, Northeast Generals – Reed Stark, F, Johnstown Tomahawks
Midwest Division Star of the Week: James Miller, Defenseman, Chippewa Steel
Chippewa Steel defenseman James Miller, 19, had his best week in a Steel uniform as the 5'10/180 lbs. native of Shorewood, MN, put up five points in three games during the week. On Wednesday, Miller assisted on three of four Steel goals in a 4-2 win over the Magicians. On Sunday, he had a goal and an assist in his team's regular season finale as Chippewa beat Janesville, 4-3. For the season, Miller finished with seven points in 31 games played. "James has been very good for us of late and was rewarded for his hard work on and off with ice this past week. He has battled some adversity this year and I am really proud of the way he finished the year for us as we gain momentum going into next season," said Steel head coach Mike Janda.
2nd Star: Jasper Lester, D, Fairbanks Ice Dogs
Honorable Mention (alphabetical): Gavin Best, F, Minnesota Magicians – Brendan Murphy, D, Fairbanks Ice Dogs – Hunter Weiss, D, Minnesota Magicians
South Division Star of the Week: Cole Hanson, Forward, New Mexico Ice Wolves
Hanson, 20, closed out his junior career in style with one of his most productive weekends of the year as the Ice Wolves took two of three games in their weekend home series against Wichita Falls. The 5'10/175 lbs. native of Grand Forks, ND, had eight points (1 goal, 7 assists) in three games. On Thursday, the Colgate University recruit picked up two assists in a 5-3 win. On Friday, he had an assist in a 5-3 loss. On Saturday, he had a goal and four assists in a 6-3 win. For the season, Hanson finished tied for 3rd in league scoring with 60 points in 53 games played. "I'm extremely happy for Cole. He had a great year for us and ended his junior hockey career on a great weekend. We are excited for him to start his next journey at Colgate University," said New Mexico head coach Phil Fox.
2nd Star: Joey Larson, F, New Mexico Ice Wolves
Honorable Mention (alphabetical): Owen Baumgartner, D, Wichita Falls Warriors – Jack Collins, F, Lone Star Brahmas – Nick Lanigan, F, Wichita Falls Warriors – Jake Mack, F, Shreveport Mudbugs – Nick Martino, F, Amarillo Bulls – Giovanni Procopio, F, Shreveport Mudbugs – Dylan Smith, F, Lone Star Brahmas – Andrew Takacs, G, Amarillo Bulls