Ice Wolves, Wilderness, Black Bears win on Thursday
May 14, 2021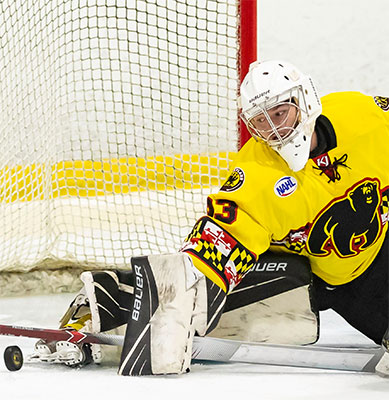 Wichita Falls 3 @ New Mexico 5 – Joey Larson scored twice as the Ice Wolves erased two different two-goal leads by the Warriors and scored four times in the 3rd period to come from behind for a 5-3 win on Thursday. Things looked good for the Warriors early on as goals from William Lawson-Body and Thomas Weis made the score, 2-0. At the end of the 2nd period, the Ice Wolves cut into the lead with a goal from Peter Lychnikoff. The Warriors regained their two-goal edge early in the 3rd period thanks to a goal from Adisen Brueck. But, it was all New Mexico after that as they scored four unanswered goals to win 5-3, including a pair from Larson and others from Jack Bayless and Jeff Hutchinson. Beni Halasz made 33 saves in the win, while Owen Bartoszkiewicz made 21 saves in the loss.
MN Wilderness 6 @ Chippewa 2 – The Wilderness got goals from six different players as the crept closer to clinching a playoff spot thanks to a 6-2 win on Thursday. After the Steel opened the game with an early goal from Jordan Cormier, the Wilderness responded in a big way, scoring four straight goals later in the 1st period to take a commanding 4-1 lead, including goals from Shawn O'Donnell, Ethan Wolthers, Joey Pierce, and Gavin Rasmussen. The Steel cut the lead down to 4-2 thanks to a 2nd period goal from Evan Tanos, but two more Wilderness goals in the 3rd period from Donte Lawson and Zam Plante secured the 6-2 win. Wilderness goalie Jacob Zacharewicz made 30 saves in the win, while Grant Boldt made 21 saves in the loss.
Northeast 2 @ Maryland 4 – Luke Mountain scored twice and Hannes Kollen made 30 saves as the Black Bears doubled up the Generals on Thursday, 4-2. The Black Bears jumped out to a 2-1 lead as Tanner Rowe scored in the 1st period and Mountain scored the first of his two goals midway through the 2nd period. The Generals pulled to within a goal later in the 2nd period with a goal from Dylan Schuett. The Black Bears then put the game out of reach with two more goals in the 3rd period, including one from Hunter McCoy and another from Mountain. David Andreychuk had the other goal for the Generals. Northeast goalie Hugo Haas made 31 saves in the loss.