Bruins help playoff chances with 6-2 win in St. Cloud
May 10, 2021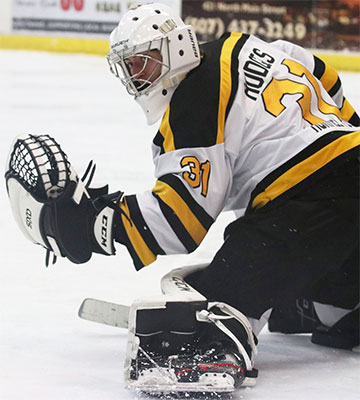 Austin 6 @ St. Cloud 2 - The Austin Bruins scored four unanswered goals on a Sunday night to topple the St. Cloud Norsemen, 6-2.
With the playoffs still in reach for both teams, a win would prove to be critical in both teams chase for the postseason. Fortunately for Austin, the Bruins struck first with exactly six minutes remaining in the first period. Barrett Brooks netted his eighteenth goal of the season, his first of two goals on the night, to elevate the Bruins to a 1-0 lead. St. Cloud pulled even less than three minutes later when Nick Young beat Hudson Hodges over the shoulder. Late in the period, the Bruins regained the lead when John Lundy pinballed a shot off bodies in front with 7.4 seconds remaining in the opening period.
The Norsemen battled their way back and tied the game early in the second on a goal from Jack Reimann, but that would be all for the home team as the Bruins took control. The go-ahead goal belonged to Barrett Brooks who increased his team-lead goal total to 19 on the season with his second of the night.
In the third, the Bruins took control. Quickly into the period, Travis Shoudy registered his fourth goal of the season with a snipe over the shoulder of Norsemen goalie, Paxton Geisel. The Bruins increased their lead to 5-2 in the third period when Alex Trombley fed Garrett Dahm on a 2-on-1 that got buried by the Mercyhurst commit. As time wore down, the Bruins tacked on an empty netter thanks to Grayson Valente who fired a shot from the Bruins defensive end into the yawning cage for the 6-2 Bruins lead and ultimate victory.
Hudson Hodges made 35 saves in the win, while Paxton Geisel made 21 saves in the loss.
With the win, the Bruins improved to 20-26-5-3 on the season and pulled even with the Minnesota Wilderness for the fourth and final playoff spot in the NAHL central division.