NAHL announces monthly player awards for April
May 6, 2021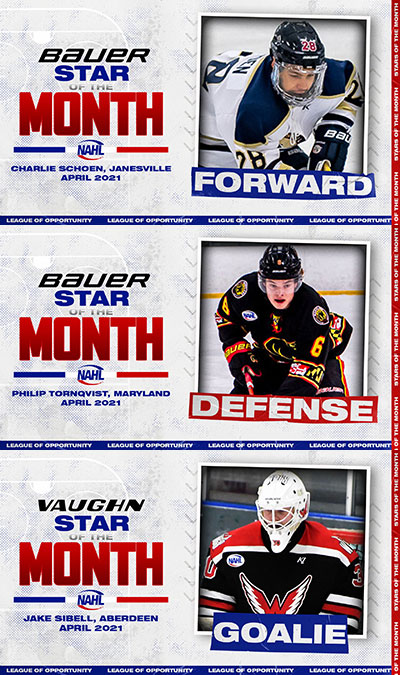 The North American Hockey League (NAHL) has announced its monthly player awards for the month of April. The Bauer Hockey NAHL Forward of the Month is Charlie Schoen from the Janesville Jets. The Bauer Hockey NAHL Defenseman of the Month is Philip Tornqvist from the Maryland Black Bears. The Vaughn NAHL Goaltender of the Month is Jake Sibell from the Aberdeen Wings. Only players who are nominated by their respective teams are considered for the NAHL monthly awards.
Bauer Hockey NAHL Forward of the Month: Charlie Schoen, Janesville Jets
Janesville Jets leading scorer and Arizona State recruit Charlie Schoen, 19, had a month to remember in April. The 5'7/155 lbs. native of Andover, MN, recorded 15 points in 11 games played during the month, which included a remarkable 12 goals in those 11 games. Four of Schoen's 12 goals during the month were game-winning goals. Schoen recorded at least a point in 10 of the 11 games played during the month and had four multi-point games. For the 2020-21 season, Schoen leads the Midwest Division Champion Jets in scoring with 42 points in 36 games played. "Charlie has been tremendous for us all season. He's a dynamic player who plays the game with creativity and confidence. It's a lot of fun to coach him. He has also put a lot of focus in improving all facets of his game. He has become a 200-foot player who can be used in any situation during a game. He's a leader on and off the ice and has been immensely invested in his teammates and their successes. Charlie has had a great month. He's scored some highlight reel, game-winning goals over the past month and really put the team on his back. When Charlie is playing confident and committed, he's one of the best players in our league," said Jets head coach Parker Burgess.
"I really like our team chemistry this year and I would say in the last few months we have done a lot of bonding as a team, especially the past few weeks. That has really helped play well and believe in one another. My linemates have played a big role in helping me be successful. They create chances and are constantly putting me in a good opportunity to score," said Schoen. "The biggest goal is to try to win a championship. We are also all playing for one another to make sure that we are doing everything we can to make sure that everyone gets an NCAA commitment. After that, I am excited for college and to go to Arizona State. I want to go there and make an impact, try and help win a championship, and get a great degree in the process. I want to be sure I am set up and ready for life after hockey is done."
Runner-Up: Brett Chorske, St. Cloud Norsemen
Honorable Mention (alphabetical): Josh Bohlin, Minnesota Wilderness – Barrett Brooks, Austin Bruins – Jake Dunlap, Northeast Generals – George Grannis, Bismarck Bobcats – Liam Hansson, Chippewa Steel – Jake LaRusso, New Jersey Titans – Bret Link, Fairbanks Ice Dogs – Joe Mack, Shreveport Mudbugs – Payton Matsui, Aberdeen Wings – Stefan Owens, Maine Nordiques – Zach Purcell, Lone Star Brahmas – Daniel Tkac, Johnstown Tomahawks – Drew Vieten, Wichita Falls Warriors – Lucas Wahlin, Kenai River Brown Bears
Bauer Hockey NAHL Defenseman of the Month: Philip Tornqvist, Maryland Black Bears
Maryland Black Bears defenseman Philip Tornqvist, 19, shot out like bolt of lightning during the month of April, as the Black Bears moved into playoff contention in the East Division. The 6'0/185 lbs. native of Goteborg, Sweden, recorded 10 points (6 goals, 4 assists) in 12 games during the month of April to lead all NAHL blueliners in scoring. He was also a +7 during the month, which included three multi-point games. Heading into the month, Tornqvist had recorded just one point in the previous 18 games with the Black Bears his season. "Philip has been getting more confident as the season has progressed, and it has shown in his play. He's a great teammate, extremely competitive, and it is fun to see him get rewarded on the offensive side of the game," said Maryland head coach Clint Mylymok.
"I got my first goal in the beginning of the month and I just started to get more and more confidence. It just felt great to produce in the way that I have expected myself to. We are playing a lot better hockey right now and I think that's important with the playoffs coming up," said Tornqvist. "We want to finish the regular season strong and go as far as we can. I think anything is possible for this team when we are playing at our best and up to our potential. I just want to keep getting better every day as a player and hopefully that leads to an opportunity to play in the NCAA in the future."
Runner-Up: Adam Kolcon, Shreveport Mudbugs
Honorable Mention (alphabetical): Tommy Bergsland, Bismarck Bobcats – Jacob Conrad, Fairbanks Ice Dogs – Vinnie Corcoran, Wichita Falls Warriors – Mitchell Digby, Lone Star Brahmas – Grant Docter, Minnesota Wilderness – Caden Lewandowski, Johnstown Tomahawks – Ryan Reid, Kenai River Brown Bears – Trevor Russell, Aberdeen Wings – Adam Smith, Northeast Generals
Vaughn NAHL Goaltender of the Month: Jake Sibell, Aberdeen Wings
For the fourth time this season, Aberdeen Wings goalie Jake Sibell, 21, has been named the NAHL's Goalie of the Month as he continued his march towards a record-breaking season. The 6'2/206 lbs. native of Isanti, MN, posted an 8-2 record in 10 starts during the month. Sibell faced a total of 261 shots in 599 minutes of action and made 248 saves, which was good for a .950 save percentage and also included three shutouts during the month. So far during the 2020-21 season, the Niagara University recruit is currently the top goalie in the NAHL with a 1.21 goals against average and a .952 save percentage to go along with a 40-2-1 record for the first place Wings. His 11 shutouts this season have tied the NAHL single-season record. During the 2016-17 season, he played in the NAPHL for the Omaha AAA 16U team. "Jake yet again had another solid month for us. His consistent excellence allowed us to win the NAHL Regular Season Championship and the Central Division Regular Season title. Jake has been outstanding with his approach and our guys follow his lead. The accolades he continues to earn are well deserved," said Wings head coach Scott Langer.
"I'm not really worried about any records right now. We know they are there, but we just want to keep doing what we are doing and everything will work out. Our preparation right now is 100% focused on trying to win the Robertson Cup. We have the same mindset every game and that is to go out there and give everything for one another. I think we have a special team and we have accomplished a lot, but we have an end goal in the mind and that is our focus right now," said Sibell. "I think this honor is a reflection of how good of a team I have in front of me and how committed my teammates are to ensure our success."
Runner-Up: Areseni Sergeev, Shreveport Mudbugs
Honorable Mention (alphabetical): Owen Bartoszkiewicz, Wichita Falls Warriors - Graham Burke, Lone Star Brahmas – Josh Graziano, Johnstown Tomahawks – Hugo Haas, Northeast Generals – Hudson Hodges, Austin Bruins – Hannes Kollen, Maryland Black Bears – Luke Pavicich, Kenai River Brown Bears – Ian Shane, Bismarck Bobcats – Jacob Zacharewicz, Minnesota Wilderness