Titans come back to top Danbury in shootout on Tuesday
May 5, 2021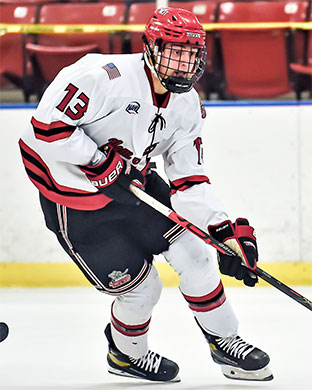 New Jersey 5 @ Danbury 4 (SO) – Down three goals entering the third period, the visiting New Jersey Titans scored three unanswered goals to force the game into overtime and Tommy Bannister scored the Titans second goal in the shootout to give them a 5-4 win over the Danbury Jr. Hat Tricks.
Danbury took an early lead just 2:49 into the game as Danbury's Jason Kleinhans put one past Titans netminder Christian Stoever to give Danbury a 1-0 lead. With 8:39 remaining in the opening period, the Jr. Hat Tricks doubled their lead as Mark D'Agostino took a snapshot that beat Stoever high glove side for his thirteenth goal of the season.
Danbury would make it 3-0 with 8:17 remaining in the second period as Alexi Van Houtte-Cachero then walked in all alone on Stoever and deked the goalie to his right and lifted the puck up and over the fallen Titans netminder and into the back of the net for his third goal of the season. The Titans finally got on the board with 4:35 left in the middle stanza. As a Jr. Hat Tricks penalty just expired, Nick Seitz made a backdoor pass to Anthony Calafiore who redirected the puck past Danbury netminder Edvard Nordlund for his fifteenth goal of the season. The Tricks regained their three-goal lead with 2:47 remaining in the second on D'Agostino's second goal of the game to give Danbury the 4-1 lead.
The Titans comeback began with 1:24 into the final period as defenseman Caleb Price scored on a rebound to make it 4-2. Nick Seitz then made it 4-3 less than a minute later as he buried the biscuit past Nordlund to make it a 4-3 game. Levente Keresztes tied the game with 2:08 remaining in regulation. Tommy Bannister sent a pass back to Keresztes who easily tucked the puck into the open net past Nordlund short side.
After a scoreless overtime, the Tricks took a lead in the shootout, but Seitz tied it. Bannister then scored to give the Titans the lead and Stoever stopped Hyde to seal the victory.
Stoever stopped 33 of 37 shots while Nordlund turned aside 40 of 44.