Bulls move back into 3rd place with win on Monday
May 4, 2021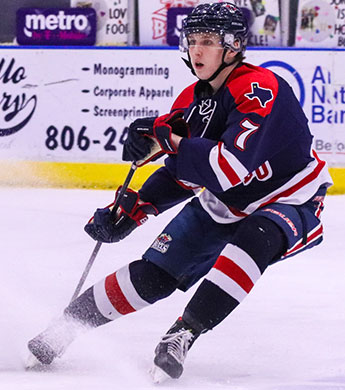 Odessa 2 @ Amarillo 3 - The Bulls snapped a four-game losing skid following a 3-2 win Monday night over the Odessa Jackalopes.
It would be the visitors who would get the scoring started when Jackalopes forward Joey Musa would score a power-play goal to make it 1-0 in the first period. Amarillo would get chances in the first but could not sneak one by Connor Hasley.
The Bulls would start the second period flying when Logan Dombrosky found Mattias Dal Monte who would tie the game just two minutes into the period. Just four minutes later, Carter Rapalje showcased his speed going from blue line to blue line to beat Hasley top shelf to give the Bulls a 2-1 lead.
Odessa would get two quality looks in the period but were stifled by Hunter Garvey in goal to hold on to a 2-1 lead going into the final period.
The Bulls held onto their one-goal advantage for most of the third period when they would get another power-play chance following an Odessa penalty at the 12:30 mark of the period. Jere Vaisanen let a shot go that got blocked and went right to Bulls captain Nick Martino who buried a one-time shot to give Amarillo a 3-1 lead.
Odessa would spend the final two minutes of the game with an empty net and with only 16 seconds to go in the game, Fletcher Anderson would score to draw the Jackalopes to within a goal. The Bulls would survive the final 16 seconds and hold on to win their 27th game of the season and reclaim the third spot of the NAHL South Division.
Garvey made 32 saves in the win, while Hasley made 31 saves in the loss.