Johnstown takes series in Danbury with win on Sunday
May 2, 2021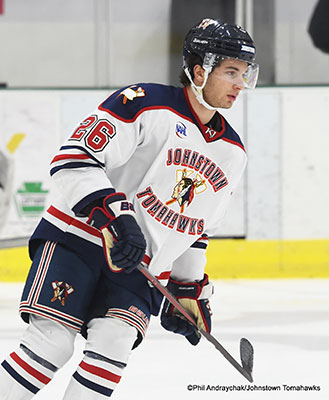 Johnstown 7 @ Danbury 2 - The Johnstown Tomahawks defeated the Danbury Jr. Hat Tricks Sunday afternoon by a final score of 7-2. Reed Stark got the Tomahawks on the board early with his tenth goal of the season. Brendan Clark scored on the power play to net his 16th goal of the season to extend the lead to two for the Tomahawks, giving them their largest lead of the weekend over the Jr. Hat Tricks. 4 minutes later, Clark scored again to give Johnstown a demanding 3-0 lead in the opening period.
At the 12:03 mark in the period, Jay Ahearn netted his 27th goal of the season from Max Smolinski and Will Margel, extending the lead to 4-0. The Tomahawks defense was holding down the fort in front of their rookie goaltender all the way up until Ben Biester broke the ice for Danbury, scoring with 3:03 remaining in the period.
The Hat Tricks found the back of the net again early in the 3rd period, this time on the power play, as Nolan Barrett scored his sixth goal of the season to make it a 4-2 game in favor of the Tomahawks. Less than four minutes later, Ahearn scored his second goal of the afternoon to extend the lead back up to three for Johnstown, followed by a goal from TJ Koufis scoring his sixth of the season just 20 seconds later. Ryan Vellucci assisted on the goal, giving him his first NAHL point. With the game at a score of 6-2, Danbury pulled netminder Andrew Pichora with just under four minutes left to play, in an attempt to add on to the scoresheet. While Danbury wasn't able to convert, Stark found the back of the empty net to secure the win for the Tomahawks on his second goal of the game.
Liam Gross, who plays for the NAPHL's Philadelphia Little Flyers, stopped 32 of 34 shots, earning the big win in his NAHL debut between the pipes. Pichora made 20 saves in the loss.