Jets, Black Bears, Norsemen win on Thursday
April 30, 2021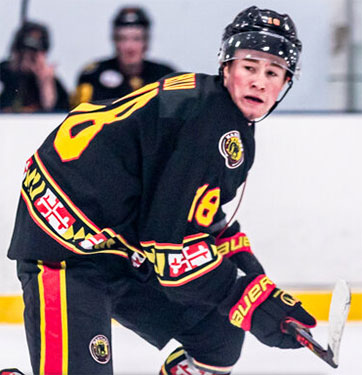 Janesville 5 @ Kenai River 2 – Jets forward Charlie Schoen recorded the first hat-trick of his impressive NAHL career to lead the Jets to a 5-2 road win in Kenai River. The win moved the Jets on the brink of clinching the Midwest Division regular season title. The Brown Bears got on the board early in the 1st period with a goal from Theo Thrun. The Jets then took control of the game as they scored three goals in the 1st period to take a 3-1 lead to the lockerroom, which included goals from Justin Engelkes, Jake Sacratini, and Schoen. In the 2nd period, the Jets put the game away with two more goals from Schoen to complete the hat-trick. Daymin Dodge added the other goal for the Brown Bears. Riley Sims made 37 saves in the win, while Luke Pavicich made 26 saves in the loss.
New Jersey 1 @ Maryland 2 – The Black Bears closed in on a playoff spot and 3rd place in the East thanks to a 2-1 home win over New Jersey on Thursday. Michael Morelli and Tristan Mecenas combined for 35 saves in the win. The Titans were on the board first in the 1st period as Anthony Calafiore scored a power play goal to make it 1-0. The Black Bears came back in the 3rd period thanks to goals from Branden Piku and Bryan Huggins to pick up the 2-1 win. Titans goalie Christian Stoever made 25 saves in the loss.
Minot 2 @ St. Cloud 3 (SO) – Paxton Geisel made 24 saves to pick up his fourth straight win as the Norsemen stayed in the Central Division playoff hunt with a 3-2 shootout win over the Minotauros. After St. Cloud opened the scoring early in the 1st period thanks to a goal from Chase Freiermuth, the Minotauros took a 2-1 lead with two goals later in the 1st period from Tyler Kostelecky and Ethan Schmunk. Midway through the 3rd period, the Norsemen found the equalizer thanks to a goal from Evan Murr. In the shootout, the Norsemen earned the extra point thanks to goals from Jack Suchy and Ryan O'Neill. Keenan Rancier made 39 saves in the loss.