Morelli leads Black Bears to shutout on Monday
April 27, 2021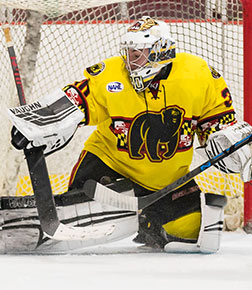 Maryland 1 @ Danbury 0 – Black Bears goalie Michael Morelli stopped all 23 shots that came his way for his second shutout of the season as Maryland edged Danbury with a 1-0 shutout on Monday.
After a scoreless 1st period, the lone goal of the game came early in the 2nd period as Branden Piku scored his 4th goal of the season on a rebound chance. Brad McNeil took a one-timer from a sharp angle, which was stopped by Danbury goalie Andrew Pichora, but the rebound sat there for Piku, who chipped home the rebound off Pichora and into the back of the net for the game's lone goal.
Morelli did the rest, which included seven saves in the 1st period, nine saves in the 2nd period, and seven saves in the 3rd period. Pichora made 30 save sin the loss.