Anchorage Wolverines reveal logo, name Aikens as head coach
April 15, 2021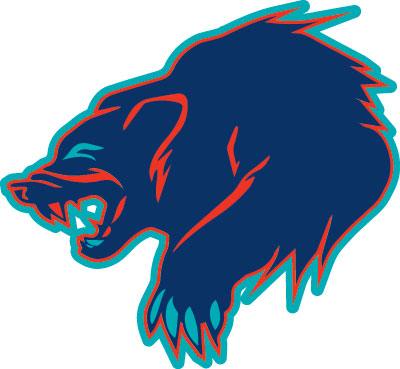 The newest member of the North American Hockey League (NAHL), the Anchorage Wolverines, released their logo and have announced the team's first head coach.
"The logo is simple… a fierce wolverine. A local artist made our vision a reality and really captured the distinct features of a wolverine," said Team President Kai Binkley Sims.
The team colors will be navy, teal, and red-orange. The blues are a nod to the favorite professional teams and the red-orange highlights the fighting spirit of a wolverine.
Sims said the team plans to play most home games on Fridays, Saturdays and Sundays at the Sullivan Arena, which hasn't hosted a hockey game since the University of Alaska-Anchorage left the arena after the 2018-19 season. It was also the former home to the Alaska Aces of the ECHL.
The Wolverines also announced they have named Mike Aikens as their new head coach. Aikens, who has spent the past three seasons as an assistant coach with the NA3HL's Rochester Grizzlies, helped build his hometown Rochester Grizzlies into a national championship contender in just three seasons.
Aikens is no stranger to junior hockey or the NAHL. He landed his first Head Coach/General Manager position with the Rochester Mustangs in the USHL where he was selected to coach in the USHL All-Star Game. After one season in Rochester, Aikens remained in the USHL serving as Assistant Coach for both the Fargo-Moorhead Ice Sharks (1999-2000) and Chicago Steel (2000-2001).
Aikens then shifted to the NAHL where he guided the Billings Bulls over the next four seasons to an impressive 150-59-15 overall record and the two Borne Cup championships. Prior to coaching the Russell Stover Hockey program 2007-2010, Aikens was an Assistant Coach of the Topeka Roadrunners (NAHL) in 2006-2007 under now Aberdeen Wings head coach Scott Langer. Aikens was most recently the Head Coach/General Manager of the Omaha Lancers (USHL) from 2011-2013, compiling a .624 win percentage.
Aikens said the job offer came somewhat out of the blue and his family -- his wife, Hope, and teenage daughters Maren and Brianna, were 100 percent supportive of the decision. Aikens, who signed a three-year contract with Anchorage, will live there during the season and during off-season tryout and development camps.
"The ownership group is really good, they want to do things the right way," Aikens to Jason Feldman of the Rochester Post Bulletin. "There are certainly challenges of building a new franchise from the ground up. As far as the hockey side of it, I expect to be competitive in Year 1; I don't want to go up there and get embarrassed. We'd love to be better than competitive, but that's a tall order going into a very good league with good coaches and players who are established."
"For me to jump back in it had to be the right situation," Aikens said. "Ownership has to be really strong, the facilities, and just being able to do things right and give yourselves a chance to have success. I've been out of the USHL/NAHL game for eight years, but I'd say I may potentially be a better coach than when I left that part of the game, because of my experiences in the NA3HL in Rochester."