NAHL Alumni Update: LaFontaine wins Richter Award
April 14, 2021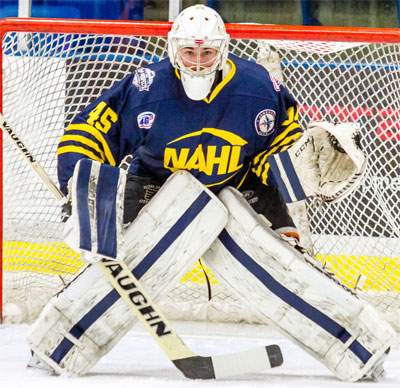 University of Minnesota senior and former NAHL goaltender Jack LaFontaine (Janesville Jets, 2015-16) is the 2021 recipient of the Mike Richter Award, given annually to the top goalie in men's NCAA Division I ice hockey. The announcement was made by the Hockey Commissioners Association (HCA), sponsor of the award.
LaFontaine enjoyed a phenomenal season with the Gophers, posting a 21-6 regular season record, the 21 wins leading the NCAA as of the start of NCAA post-season play. He had a save percentage of .936 and a GAA of 1.74, those numbers earning him Big Ten Goaltender of the Year honors. A first team selection in the Big Ten, LaFontaine was a Hobey Baker Top Ten finalist.
LaFontaine's Mike Richter Award and First Team All-America accolade add to an already impressive list of honors for the senior alternate captain. The goaltender was named the Big Ten Goaltender of the Year, a First Team All-Big Ten selection and the Most Outstanding Player of the Big Ten tournament in 2020-21 while also earning recognition as a top-10 finalist for the Hobey Baker Award. A two-time Academic All-Big Ten selection majoring in English, LaFontaine was also a finalist for the Senior CLASS Award.
A native of Mississauga, Ontario, LaFontaine (22-7-0) set new school single-season records for save percentage (.934) and goals against average (1.79) while his five shutouts this year rank tied for the third most in a season by a Gopher. Among regular NCAA goaltenders this year, the Carolina Hurricanes prospect ranked first in wins, tied for first in save percentage, tied for second in shutouts, third in saves (717) and third in goals against average. In 16 games against nationally ranked opponents, he boasted an 11-5-0 record.
LaFontaine played in the NAHL during the 2015-16 season, where he initially made his first NCAA Division I commitment. During that season, LaFontaine was named the Midwest Division Goalie of the Year. He also played for the NAHL Selects team at the 2016 NAHL Top Prospects Tournament. He finished the season with a 24-8-7 record in 41 games played. He rank in the Top 10 in both goals against average (2.16) and save percentage (.921). He also had four shutouts.
Following the 2015-16 NAHL season, he was selected by the Carolina Hurricanes (Round 3, #75 overall) of the 2016 NHL Draft.
He is the second former NAHL goalie to win the award. Current Winnipeg Jets goaltender and former Odessa Jackalopes netminder Connor Hellebuyck won the inaugural award back in 2014 playing for UMass-Lowell.