New Jersey defenseman Price makes NCAA DI commitment
April 12, 2021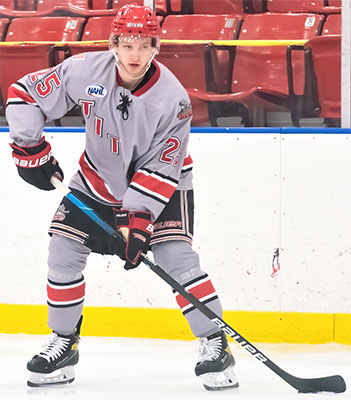 The New Jersey Titans, proud members of the North American Hockey League (NAHL), are pleased to announce that defenseman Caleb Price has committed to play NCAA Division I Ice Hockey for the Lindenwood University Lions. His commitment begins in September 2021.
Price, 21, a Hooksett, NH, native has fourteen points (3 goals and 11 assists) in 36 games so far during the 2020-21 season. He is second among defenseman in total points.
"It's been a tough year recruiting wise with COVID but I'm excited to have finally made a decision," said Price. "After talking with the Titans coaching staff and my parents, I'm happy I found a spot. The Lindenwood coaching staff are all great people who I know will help me succeed not only on the ice but in life. Big thanks to everyone who has supported me over the years."
Price broke into the NAHL during the 2018-19 season with the Jamestown Rebels where he had 20 points in 50 games played during that season.
Prior to playing in the NAHL, Price played one season in the NAPHL for the Northern Cyclones during the 2017-18 season, where he recorded five points in 12 NAPHL games that season.
"What a great day for Caleb and the entire Price family," stated Titans head coach and general manager Craig Doremus. "Caleb has worked long and hard to achieve his dream of being a Division I athlete. We were thrilled to have acquired him this year and he has been a great addition to our organization. Caleb is a player who caught my eyes years ago, and I'm just thrilled that I finally got the opportunity to coach and work with him. Caleb will be a great addition to the Lindenwood program. We look forward to following his career there after he helps lead us through the Robertson Cup playoffs."
Lindenwood University is in Saint Charles, MO. The Lions are coached by Rick Zombo and will field an NCAA Division I team beginning in the 2022-23 season.
Click here for an updated NAHL to NCAA commitment list