Ice Wolves, Jets, Wilderness pick up wins on Thursday
April 9, 2021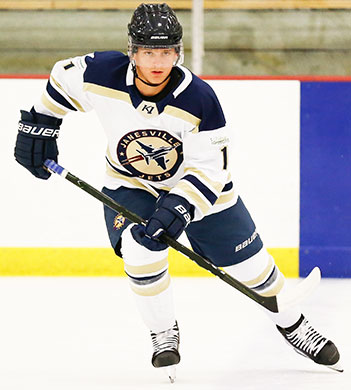 Wichita Falls 1 @ New Mexico 4 – It was a triumphant return for the Ice Wolves to the Outpost Ice Arena in Albuquerque as they got two goals from Joey Larson and 37 saves from Beni Halasz in a 4-1 win over the visiting Warriors on Thursday. New Mexico jumped out to a 2-0 lead in the 1st period with goals from Jack Bayless and Larson. The Warriors drew to within one goal as Thomas Weis netted his 16th goal of the season. A goal from Spencer Rudrud in the 2nd period made it 3-1 and the Larson's second of the night in the 3rd period completed the 4-1 win. Wichita Falls netminder Owen Bartoszkiewicz made 38 saves in the losing effort.
Janesville 4 @ Chippewa 3 (SO) – A late rally in the 3rd period by the Steel fell just short as they Jets took home a 4-3 shootout win on Thursday. Things looked good for the Jets through two periods as they led 2-0 with goals from Nick Leyer and Matthew Romer. The Steel got on the board early in the 3rd period on a goal from Ethan Benz, but the Jets would make it a two-goal game again as Robby Newton scored to make it 3-1. Benz then added his second goal of the game later in the 3rd period to make it 3-2 and Liam Hansson tied the game with just :05 seconds remaining in regulation. After a scoreless overtime, Jets forward Carter Hottmann was the only player to score in the shootout. Jets goalie Owen Millward made 33 saves in the win, while Berk Berkeliev made 27 saves in the loss.
Bismarck 2 @ MN Wilderness 3 – Jacob Zacharewicz made 33 saves to lead the Wilderness to a 3-2 win over the visiting Bobcats. The Wilderness went ahead 1-0 thanks to a 1st period goal from Josh Bohlin. The Bobcats tied the game early in the 2nd period on a goal from Issac Henkemeyer-Howe. The Wilderness had an answer later in the period from Donte Lawson to make it 2-1. The lead increased to 3-1 later in the 3rd period as Gavin Rasmussen added his 10th goal from the season. A late goal from Bobcats forward Tim Piechowski made it a 3-2 final. Bobcats goalie Tommy Aitken made 25 saves in the loss.