NAHL Alumni Update: Frozen Four
April 7, 2021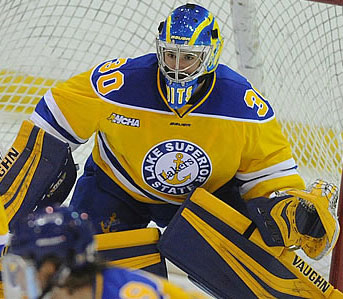 The 2021 NCAA Frozen Four, the national championship for Men's Division I ice hockey, will take place April 8 and 10 at PPG Paints Arena in Pittsburgh, PA. The four-team field is set. Massachusetts, Minnesota Duluth, Minnesota State, and St. Cloud State are still competing for the title.
Frozen Four Schedule
April 8: St. Cloud State vs. Minnesota State, 5pm
April 8: Minnesota-Duluth vs. Massachusetts, 8pm
April 10: Championship Game, 7pm
A total of 41 NAHL alumni will be taking part in the Frozen Four. All 16 teams that began the tournament two weeks ago had at least one NAHL alumni on their roster. In total, 143 NAHL alumni were on the 16 rosters of teams that began the event.
NAHL alumni breakdown of Frozen Four teams:
Minnesota State: 13
Minnesota-Duluth: 11
St. Cloud State: 11
Massachusetts: 6
The 41 players with NAHL ties features three players with a NAHL Robertson Cup under their belt, including Todd Burgess (Minnesota State University/Fairbanks), Jaxon Castor (St. Cloud State University/Shreveport) and Reggie Lutz (Minnesota State University/Fairbanks). Additionally, two players have received NAHL postseason awards. Burgess was named to the 2016 All-NAHL Team as well as the 2016 MVP and Forward of the Year, while George Mika (University of Massachusetts/Amarillo) was named to the 2017 All-NAHL team and named the 2017 Forward of the Year.
The Toronto Marlies of the AHL announced that they have signed former NAHL defenceman Brennan Kapcheck (Aston Rebels, 2015-17) to a two-year AHL contract. He will join the Marlies on a professional try-out for the remainder of the 2020-21 season. Kapcheck, 24, appeared in 19 games with American International College (AIC) this past season, registering 18 assists while serving as captain. The Mt. Prospect, IL native led his team to the 2021 Atlantic Hockey Championship and was named AHA (East) Player of the Year and Best Defenceman, the first player at AIC to be recognized for both honours. Through four seasons at AIC, Kapcheck recorded 94 points (14 goals, 80 assists) in 128 games, setting a Division I-era school record for career assists. He played in 105 career NAHL games for the Rebels from 2015-17, posting 62 career points. During the 2016-17 season, he was named to the All-NAHL 1st Team and named the East Division Defenseman of the Year.
Lake Superior State University senior goaltender Mareks Mitens (Aston Rebels, 2016-17) has signed a professional deal with the Binghamton Devils of the American Hockey League. Mitens joins the Devils, the New Jersey Devils minor league affiliate, following a tremendous senior season that culminated in the program's first WCHA Championship and a trip to the NCAA Tournament. Mitens, a native of Ventspils, Latvia, finished his Laker career with 36 wins, including a career-best 14 victories during the 2020-21 season. At the close of his collegiate career, Mitens ranks ninth all-time in program history in wins, fourth all-time in goals against average (2.51), ninth all-time in saves (2292), fifth all-time in save percentage (.914) and tied for eighth all-time in games played (94). During the 2016-17 season with the Rebels, Mitens was named the NAHL's Most Valuable Player and Goaltender of the Year.