NAHL announces monthly player awards for March
April 6, 2021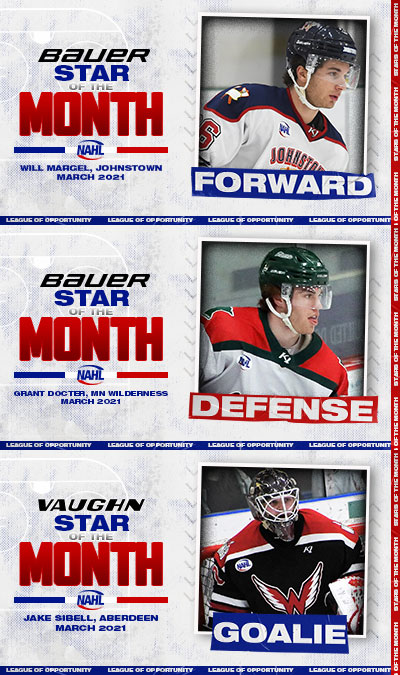 The North American Hockey League (NAHL) has announced its monthly player awards for the month of March. The Bauer Hockey NAHL Forward of the Month is Will Margel from the Johnstown Tomahawks. The Bauer Hockey NAHL Defenseman of the Month is Grant Docter from the Minnesota Wilderness. The Vaughn NAHL Goaltender of the Month is Jake Sibell from the Aberdeen Wings. Only players who are nominated by their respective teams are considered for the NAHL monthly awards.
Bauer Hockey NAHL Forward of the Month: Will Margel, Johnstown Tomahawks
Johnstown Tomahawks forward Will Margel, 20, had a huge month of March to help his club widen their lead atop the NAHL's East Division. The 5'9/167 lbs. native of Potomac, MD, led all NAHL players with 17 points during the month in just nine games played. The included 12 goals and five assists to go along with a +7 rating for the University of New Hampshire recruit. Margel, who is currently on a 15-game point streak, recorded at least a point in all nine games during the month and had five multi-point games. "Will had an exceptional month for us with outstanding production. He has been a huge catalyst for our team success. His ability to have an impact on the game has been remarkable. Additionally, he has been very clutch for us finding big goals at big times. Will is fully deserving of this league recognition, and we look forward to more to come from him," said Tomahawks head coach Mike Letizia.
"As I look back on March, we played with a lot of confidence we just knew that if we could play our game, the rest would take care of itself. I play on a great line and owe a lot to my teammates. They were a huge reason behind the production last month," said Margel. "Our focus now is to win the division and advance to the Robertson Cup. After that, I want to be able to be able to hit the ground running at New Hampshire and make an impact right away in NCAA hockey."
Runner-Up: Thomas Manty, Aberdeen Wings
Honorable Mention (alphabetical): Carter Korpi, Wichita Falls Warriors – Luc Laylin, Minnesota Magicians – Bret Link, Fairbanks Ice Dogs – Joe Mack, Shreveport Mudbugs – Connor Mylymok, Austin Bruins – Josh Nixon, Maryland Black Bears – Ryan O'Neill, St. Cloud Norsemen - Stefan Owens, Maine Nordiques – Zach Purcell, Lone Star Brahmas – Nick Seitz, New Jersey Titans – Ryan Taylor, Bismarck Bobcats – Will Traeger, Minnesota Wilderness – Jonathan Young, Northeast Generals
Bauer Hockey NAHL Defenseman of the Month: Grant Docter, Minnesota Wilderness
Minnesota Wilderness defenseman and Michigan Tech recruit Grant Docter, 20, kept his hot play going during the month of March when we put his production into overdrive. The 5'10/170 lbs. native of Golden Valley, MN, led all NAHL defensemen in scoring during the month with 12 points in 13 games played. Doctor recorded at least one point in nine of the 13 games. He currently leads the Wilderness in scoring this season with 29 points in 39 games played, which is also 3rd among all NAHL defensemen. "We are delighted to see Grant be recognized for his hard work and contribution to our club's success as Defenseman of the Month. Over the course of our season, his growth in being able to join the rush and create plays allows him to be a constant offensive threat in any zone," said Wilderness head coach Jon Vaillancourt.
"Looking back on March, I think I got pucks in the right spots and my teammates were a big reason for the production. I was able to go on a little bit of a goal-scoring and point streak and I also got some lucky bounces," said Docter. "I think being committed has been helpful in developing my game because I want to be an impact player going into the NCAA as a freshman. Hopefully, I can step in right away, play some big minutes, and hopefully play every game and be an impact player. I am really focused not only on winning as many games as we can this season, but also trying to get my body ready for the college grind next season. I think we have a team with great potential and if we can keep our focus on making the playoffs, anything can happen and try and make a run towards the Robertson Cup."
Runner-Up: Karl Falk, Minnesota Magicians
Honorable Mention (alphabetical): Tommy Bergsland, Bismarck Bobcats – David Breazeale, Shreveport Mudbugs – Nico Devita, Aberdeen Wings – Mitchell Digby, Lone Star Brahmas – Andrew Garby, Fairbanks Ice Dogs - Cam Gaudette, Maryland Black Bears – Max Smolinski, Johnstown Tomahawks – Alexander Tertyshny, Northeast Generals – Drake Usher, Wichita Falls Warriors
Vaughn NAHL Goaltender of the Month: Jake Sibell, Aberdeen Wings
For the third time this season, Aberdeen Wings goalie Jake Sibell, 21, has been named the NAHL's Goalie of the Month as he continued his march towards a record-breaking season. The 6'2/206 lbs. native of Isanti, MN, posted a perfect 7-0 record in seven starts during the month. Sibell faced a total of 185 shots in 421 minutes of action and made 175 saves, which was good for a .943 save percentage. So far during the 2020-21 season, the Niagara University recruit is currently the top goalie in the NAHL with a 1.09 goals against average and a .957 save percentage to go along with a perfect 33-0-1 record for the first place Wings. His 10 shutouts this season are one shutout away from matching the NAHL single-season record. During the 2016-17 season, he played in the NAPHL for the Omaha AAA 16U team. "What's great about Jake is he doesn't rest on his laurels. He focuses on continuing to get better every day. Jake is a total professional in his approach to the game and his daily habits. His mental toughness makes him an everyday leader in our dressing room, as well as resilient while he embraces adversity. The Wings have a very good goalie coach in Josh Aycock, who has helped Jake with his long-term passions and goals. This has been another huge piece of our continued goaltending success," said Wings head coach Scott Langer.
"I think we're continuing to get better every day in practice and in games and you can tell that were clicking much better than we were even a month ago. Guys seem to always know where each other are on the ice and what plays we need to make. I think just being together for so long is really helping us become a better team and as we go down the stretch, we want to be playing our best hockey come playoff time," said Sibell. "I try not to think about the numbers and stats too much. I think if you think about it then you're almost jinxing yourself and you can't really think about doing your job, which right now is just to help my team win games. I have been trying to take a game by game and just making the next save. Everything else will keep taking care of itself if I continue to do that."
Runner-Up: Cole Hudson, Shreveport Mudbugs
Honorable Mention (alphabetical): Tommy Aitken, Bismarck Bobcats – Andy Beran, Minnesota Magicians – Graham Burke, Lone Star Brahmas – Josh Graziano, Johnstown Tomahawks – Ryan Keyes, Fairbanks Ice Dogs – Michael Morelli, Maryland Black Bears – Riley Sims, Janesville Jets – Ryan Ullan, Wichita Falls Warriors – Jacob Zacharewicz, Janesville Jets