NAHL announces Bauer Hockey Stars of the Week
April 5, 2021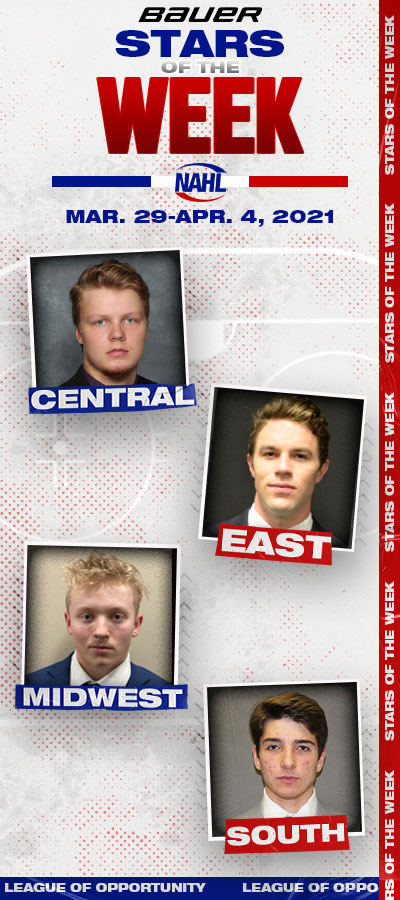 The North American Hockey League (NAHL) today announced the Divisional Stars of the Week presented by Bauer Hockey for the week ending April 4, 2021. The Divisional Stars of the Week is a weekly feature during the 2020-21 regular season that honors the top performing players in each of the four NAHL divisions. Only players that are nominated by their respective teams are considered for the Divisional Players of the Week award.
Watch: Highlights for the NAHL Stars of the Week for Mar. 29-Apr. 4
Central Division Star of the Week: Jake Sibell, Goaltender, Aberdeen Wings
It was another perfect weekend for the Aberdeen Wings and goaltender Jack Sibell. The 21-year-old native of Isanti, MN, posted shutouts in both wins this weekend as he continued his assault on the NAHL record books. The 6'2/206 lbs. Niagara University commit stopped a combined 69 shots in two wins over the Minnesota Wilderness, which included 31 saves in a 3-0 shutout on Friday and 38 saves in another 3-0 shutout on Saturday. For the season, Sibell has an outstanding 33-0-1 record with 1.09 goals against average and a .957 save percentage. His 10 shutouts this season are one shy of tying the NAHL single season record of 11. "Jacob was the backbone to the success we had this weekend. He continues to perform at an elite level, allowing this team to take points each weekend. Jacob also broke our franchise record for shutouts with 10, which eclipsed the record of another great goalie from our past, Matt Vernon. Each weekend he gives his best and continues to impress," said Wings head coach Scott Langer.
2nd Star: Tommy Aitken, G, Bismarck Bobcats
Honorable Mention (alphabetical): Tommy Bergsland, D, Bismarck Bobcats – Peyton Hanson, F, St. Cloud Norsemen – Brendan Poshak, F, Minnesota Wilderness - Ethan Schmunk, F, Minot Minotauros – Spencer Schneider, F, Aberdeen Wings – Blaine Warnert, F, Minot Minotauros – Jacob Zacharewicz, G, Minnesota Wilderness
East Division Star of the Week: Hunter McCoy, Forward, Maryland Black Bears
The Maryland Black Bears got back on track this past weekend thanks to a sweep of their home-and-home series with the New Jersey Titans. Leading the way was forward Hunter McCoy, 20, who had six points in the two wins. On Friday, the 6'1/190 lbs. native of Newburyport, MA, had three assists in a 4-0 win. On Saturday, the Brown University recruit had a goal and two assists in a 5-2 win. For the season, McCoy leads the Black Bears in scoring with 31 points in 40 games played. "Hunter had a heck of a week for us, and deservedly so. He has been an impact player for us in many roles this season, and it was nice to see him rewarded on the scoresheet," said Maryland head coach Clint Mylymok.
2nd Star: Josh Graziano, G, Johnstown Tomahawks
Honorable Mention (alphabetical): Ricky Boysen, F, Northeast Generals – Brendan Clark, F, Johnstown Tomahawks – Hannes Kollen, G, Maryland Black Bears – Jonathan Young, F, Northeast Generals
Midwest Division Star of the Week: Austin Becker, Forward, Fairbanks Ice Dogs
Fairbanks Ice Dogs forward Austin Becker, 20, helped his club to two wins in three games this past weekend against the Minnesota Magicians. The 5'10/185 lbs. native of Amery, WI, had five points and was a +3 as the Ice Dogs played in their final games before heading back to Alaska. On Thursday, Becker had a goal and an assist in a 6-2 win. On Friday, he had a goal in a 3-2 loss. On Saturday, he had a goal and assist in a 5-3 win. For the season, Becker is currently 2nd in team scoring with 26 points in 38 games played. "Austin has provided some much-needed scoring and toughness to our lineup. He has put himself on the radar to be an NCAA Division I player as he continues to help our team," said Ice Dogs head coach Trevor Stewart.
2nd Star: Max Helgeson, F, Kenai River Brown Bears
Honorable Mention (alphabetical): Jasper Lester, D, Fairbanks Ice Dogs – Spencer Light, F, Minnesota Magicians – Devlin McCabe, F, Minnesota Magicians – Shayne Tomlinson, F, Kenai River Brown Bears
South Division Star of the Week: Owen Bartoszkiewicz, Goaltender, Wichita Falls Warriors
Behind goaltender Owen Bartoszkiewicz, 18, the Wichita Falls Warriors took 3 of 4 points in a weekend road series in Odessa against the Jackalopes. The 6'2/195 lbs. native of Rochester, MI, allowed just a single goal in regulation in the two games this weekend, stopping 33 of 34 shots. On Friday, Bartoszkiewicz stopped all 22 shots that came his way for his fourth shutout of the season in a 5-0 win. On Saturday, he stopped 11 of 12 shots through regulation and overtime in a 2-1 shootout loss, which included stopping two of three shooters. For the season, Bartoszkiewicz 16-8-4 record with a 2.37 goals against average and .918 save percentage. "Owen had a really solid weekend for us. He made some big saves in timely moments that helped get us 3 of 4 points on the weekend. He has proven this season that he can steal a game or just simply make the big save to change the tide. His work ethic and diligent routine has him mentally and physically prepared to play every game. Our goaltending has been a big part of our success this year and Owen has led the way with his performances," said Warriors head coach Garrett Roth.
2nd Star: Arsenii Sergeev, G, Shreveport Mudbugs
Honorable Mention (alphabetical): Davis Goukler, D, Shreveport Mudbugs – Noah Rupprecht, G, Odessa Jackalopes – Drew Vieten, F, Wichita Falls Warriors