Wilderness blank Norsemen on Wednesday, 5-0
April 1, 2021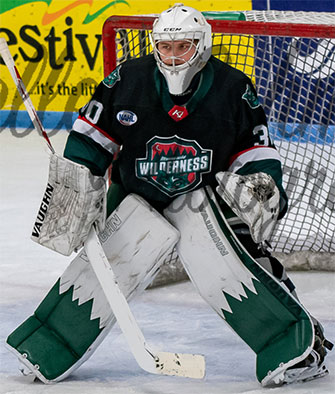 St. Cloud 0 @ MN Wilderness 5 – Wilderness goalie Jacob Zacharewicz stopped all 31 shots that came his way for his first career NAHL shutout as the Wilderness handed the Norsemen their third straight loss in a 5-0 win in the lone NAHL game on Wednesday.
After a back-and-forth opening to the first period, the Wilderness took the lead with a Grant Doctor goal and added to their advantage with a goal from Brendan Poshak to make it 2-0.
In the 2nd period, the Wilderness grew their lead to 3-0 as Donte Lawson found the back of the net mid-way through the period. That would spell the end of the night for Norsemen starter Josh Langford, who was lifted in favor of Paxton Geisel.
Later in the 3rd period, the Wilderness extended their lead to 5-0 with goals three minutes apart from Will Traeger and Mikol Sartor. Lawson, Sartor, and Poshak would each finish with a goal and an assist on the night and Josh Bohlin had two assists.
Langford made nine saves in the loss, while Geisel finished with seven saves.