Sunday Wrap-Up: Brahmas clinch playoff spot with sweep
March 28, 2021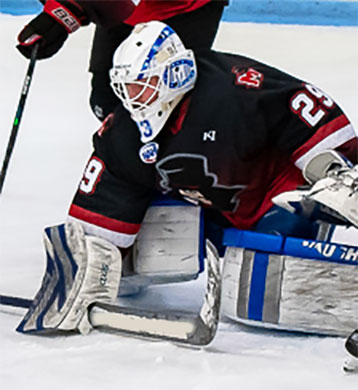 Lone Star 4 vs. New Mexico 2 – The Brahmas clinched a Robertson Cup Playoff spot in the South Division as they completed a three-game weekend sweep of the Ice Wolves thanks to a 4-2 win on Sunday. Lone Star jumped out to a 2-0 lead thanks to 1st period goals from Zach Purcell and Joey Baez. New Mexico cut the lead down to 2-1 with a power play goal from Joey Larson midway through the 2nd period. The Brahmas went back up by two goals later in the 2nd period thanks to a power play goal from Luke Johnson. In the 3rd period, Andrew DeCarlo scored his team-leading 18th goal of the season for the Brahmas to make it 4-1. Cole Hanson would add a late power play goal for New Mexico to make it a 4-2 final. Guy Blessing made 21 saves in the win, while Beni Halasz made 19 saves in the loss.
MN Magicians 9 @ Kenai River 0 – The Magicians exploded for a season-high nine goals as they salvaged one win in their three-game series with the Brown Bears thanks to a 9-0 win on Sunday. Luc Laylin and Robert Christy each scored twice and Andy Beran made 39 saves in the shutout. The Magicians took a 1-0 lead in the 1st period as Christy netted his 5th goal of the season. The lead swelled to 3-0 in the 2nd period as Hunter Longhi and Laylin scored. The Magicians poured it on in the 3rd period as Christy and Laylin scored again along with goals from Trevor Kukkonen, Simon Falk, Brett Oberle, and Will Schumacher. Brown Bears goalie Andrew Rose made 38 saves in the loss.
Maine 3 @ Danbury 4 – The Jr. Hat Tricks salvaged one win in their three-game home set against the Nordiques thanks to a come-from-behind 4-3 win on Sunday. Maine took a 1-0 lead thanks to a 1st period goal from Luke Antonacci. Danbury tied the game at 1-1 early in the 2nd thanks to a goal from Levi Stauber. Maine then took a 3-1 lead with back-to-back goals from Stefan Owens and Ignat Belov in the 2nd period. After that, it was all Danbury as they scored the final three goals, including two in the 2nd period from Shane Murphy and Gabe Dombroski and the game-winner early in the 3rd period from Jason Kleinhans. Josh Seeley made 38 saves in the win, while Avery Sturtz made 18 saves in the loss.