March 19, 2021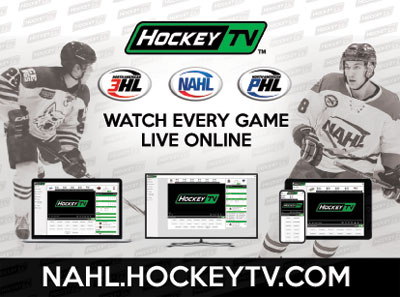 It's the busiest weekend of the year in the NAHL with 25 games on the schedule from Friday through Sunday.
There are less than two months remaining until the start of the 2021 Robertson Cup Playoffs.
The 2021 Robertson Cup Playoffs begin the third week in May and the top four teams in each division will qualify for the post-season. The four divisional playoff winners will meet for the 2021 Robertson Cup Championship, which is scheduled to be held at Fogerty Arena in Blaine, MN, from June 18-22.
It was another great week for NCAA commitments, as two more players announced their commitments to the next level. That brings bringing the current season total to 268 players (including a new record of 253 Division I commitments) who are playing in the league and are committed to playing NCAA hockey in 2020-21.
This weekend in the Central Division, the Minot Minotauros, who are 3-0-2 in their last five games, look to continue their hot play with an important series at home against the Aberdeen Wings. Minot handed Aberdeen just their second regulation loss on Wednesday by a 2-1 score. The Minnesota Wilderness are looking to snap a three-game losing streak and will face the Chippewa Steel from the Midwest in a three-game series. The 2nd place Bismarck Bobcats travel to Austin for two games against the Bruins, who are just 2-8-0 in their last 10 games and in last place in the Central. St. Cloud is idle.
In the East, it's a full slate of games, including 1st place hosting last place as Johnstown will host the Northeast Generals for three games with the Tomahawks going 8-1-1 in their last 10 games. The Maryland Black Bears are at home and looking to put a stop to their current 12-game skid as they host the Danbury Jr. Hat Tricks. The battle for 2nd place and playoff position heats up with the final series as the Maine Nordiques travel to New Jersey for three games against the Titans.
In the Midwest, 1st place is on the line as the Minnesota Magicians travel to Janesville for a two-game set against the 1st place Jets, who are just one point ahead in the standings. Fairbanks and Kenai River face one another in a home-and-home series and Chippewa will face the Wilderness from the Central Division.
In the South, it is a battle for playoff position, including the top spot as Lone Star visits Shreveport with the two teams separated by just two points for the division lead. 3rd and 4th place also battle this weekend as the Amarillo Bulls host the Wichita Falls Warriors with the two clubs separated by a single point. In the final series, Odessa looks to snap a 10-game slide as they host New Mexico.
Watch all the action on HockeyTV
Download the all new NAHL App today! (iOS - Google Play)
FRI, MARCH 19
Danbury at Maryland - 6:30 PM EDT
Northeast at Johnstown - 7:30 PM EDT
Maine at New Jersey - 7:30 PM EDT
MN Magicians at Janesville - 7:00 PM CDT
Wichita Falls at Amarillo - 7:05 PM CDT
Bismarck at Austin - 7:05 PM CDT
Lone Star at Shreveport - 7:11 PM CDT
Chippewa at MN Wilderness - 7:15 PM CDT
New Mexico at Odessa - 7:15 PM CDT
Kenai River at Fairbanks - 7:30 PM CDT
Aberdeen at Minot - 7:35 PM CDT
SAT, MARCH 20
Danbury at Maryland - 6:30 PM EDT
Northeast at Johnstown - 7:00 PM EDT
Maine at New Jersey - 7:00 PM EDT
MN Magicians at Janesville - 7:00 PM CDT
Wichita Falls at Amarillo - 7:05 PM CDT
Bismarck at Austin - 7:05 PM CDT
Fairbanks at Kenai River - 7:05 PM CDT
MN Wilderness at Chippewa - 7:10 PM CDT
Lone Star at Shreveport - 7:11 PM CDT
New Mexico at Odessa - 7:15 PM CDT
Aberdeen at Minot - 7:35 PM CDT
SUN, MARCH 21
Northeast at Johnstown - 2:00 PM EDT
Maine at New Jersey - 5:00 PM EDT
Chippewa at MN Wilderness - 5:05 PM CDT