Nordiques ride Outen to 1-0 shutout win on Sunday
March 15, 2021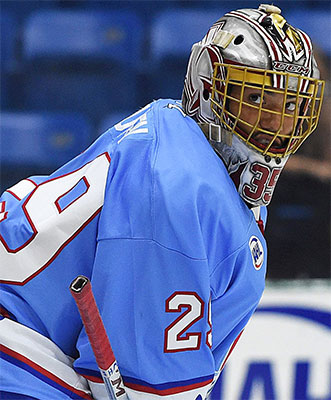 Danbury 0 @ Maine 1 – Nordiques goaltender Tyriq Outen stopped all 39 shots that came his way for the first shutout of his NAHL career, as Maine took the rubber match of their three-game series with Danbury thanks to a 1-0 win on Sunday.
The lone goal of the game came midway through the 1st period as Maine found themselves on an odd-man 2-on-1 rush. Caden Pattison came down the right side and waited until the last second to slide the puck over to Jackson Vercellono, who one-timed a blast past Danbury goaltender Andrew Pichora.
It was Vercellono's 3rd goal of the season and Casper Soderling also picked up an assist on the play.
The rest of the game was a goaltending duel between Outen and Pichora, who saw just one puck on 69 combined shots find the back of the net. Pichora would end up making 29 saves in the loss.