Bruins, Brahmas, Steel all pick up wins on Thursday
March 12, 2021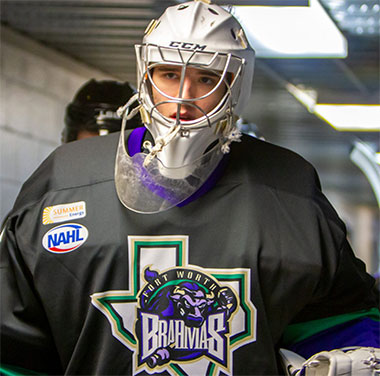 MN Wilderness 2 @ Austin 4 – Carson Riddle had a hat-trick to lead the Bruins to a 4-2 win over the visiting Wilderness on Thursday. Riddle scored a goal in each period, which included a power play goal in the 1st period to put Austin ahead, 1-0. The Wilderness tied the game early in the 2nd period with a goal from Josh Bohlin. The Bruins took a 3-1 lead later in the period with goals from Reggie Millette and Riddle's second of the game. Mikol Sartor scored late in the period for the Wilderness to make it a 3-2 game. Early in the 3rd period, Riddle added his third of the contest to secure the win. Bruins goalie Tyler Shea made 24 saves in the win, while Kaleb Johnson made 28 saves in the loss.
Lone Star 4 @ Odessa 0 – Brahmas goalie Guy Blessing stopped all 14 shots that came his way for his 3rd shutout of the season as Lone Star blanked Odessa, 4-0. The Brahmas went ahead 1-0 in the 1st period with the eventual game-winning goal from Blake Benson. Team scoring leader Andrew DeCarlso then made it 2-0 with a goal early in the 2nd period. The lead increased to 3-0 later in the 2nd period as Caige Sterzer scored his 2nd goal of the season. Late in the 3rd period, Joey Baez completed the scoring with his 11th goal of the season to make it a 4-0 final. Odessa goalie Connor Hasley made 20 saves in the loss.
Chippewa 4 @ MN Magicians 2 – Connor McGrath scored twice to lead the Steel to a big 4-2 road win in Richfield against the division-leading Magicians. Chippewa held a 2-1 edge after one period as McGrath and Ethan Janda scored, while Luc Laylin had the lone Magicians goal. The Magicians tied the game at 2-2 in the 2nd period with a goal from Colin Stein. In the 3rd period, goals from Daniel Rozsival and another from McGrath secured the win for the Steel. Chippewa goalie Berk Berkeliev made 27 saves in the win, while Darius Bell made 29 saves in the loss.