Danbury edges New Jersey in OT, 5-4
March 11, 2021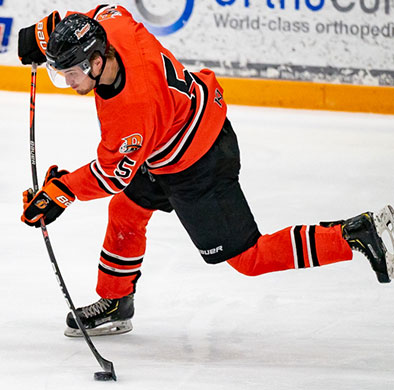 New Jersey 4 @ Danbury 5 (OT) - Levi Stauber potted the game-winner in overtime as the Danbury Jr. Hat Tricks topped the New Jersey Titans 5-4 at Danbury Arena in the lone NAHL game on Wednesday.
Though the first period would end scoreless, the second featured seven goals traded by each team. Nick Seitz opened the scoring for the New Jersey Titans with a powerplay goal just 23 seconds into the frame. Danbury rallied back in short order, with Gabe Dombrowski and Jason Kleinhans tallying to give the Jr. Hat Tricks the lead. Alexi Van-Houtte Cachero would extend that lead to 3-1, tipping in a shot on the powerplay for his first NAHL goal.
Special teams would bring the New Jersey Titans back in the game, as Seitz wired a wrister past Danbury netminder Edvard Nordlund for his second powerplay goal of the period to make it 3-2. Though Stauber would add a goal of his own to make it 4-2, Anthony Calafiore converted on a back-door past for yet another goal on the man advantage for the Titans to make it 4-3.
The Jr. Hat Tricks would kill off three penalties to start the third period, yet fell victim to a Calafiore shorthanded goal to knot up the score at 4-4.
Danbury used the open space to their advantage in 3-on-3 overtime, as a power move by Porter Schachle led to a juicy rebound for Stauber.
Nordlund made 26 saves in the win, while Christian Stoever suffered his first loss of the season for the Titans, making 24 saves in the overtime loss.