March 10, 2021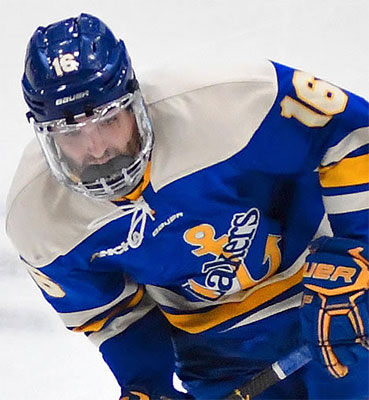 After unveiling its all-conference and all-rookie teams, the National Collegiate Hockey Conference (NCHC) announced its first two individual award winners for the 2020-21 season. St. Cloud State senior forward Kevin Fitzgerald (Aberdeen Wings/Topeka RoadRunners) is the NCHC's Sportsmanship Award winner, while Miami freshman goaltender Ludvig Persson (Lone Star Brahmas) earned the NCHC's Three Stars Award.
Fitzgerald is the third Husky to win the Sportsmanship Award and second in three years after Patrick Newell garnered the honor in 2018-19. Persson becomes the first RedHawk to win the Three Stars Award, while he's the third goaltender and third freshman to claim the honor.
Fitzgerald (Hinsdale, Ill.) arrived on SCSU's campus as a walk-on and is now a staple on St. Cloud State's top line as a senior. The Huskies alternate captain has committed only nine minor penalties this season and no major penalties. He has played in all 24 games for SCSU this season, recording 13 points on eight goals and five assists, including three game-winning goals. In 119 career games for the Huskies, Fitzgerald has amassed 62 points (28g/34a).
Persson (Hindas, Sweden) was named Second-Team All-NCHC and to the NCHC All-Rookie Team on Monday. The Swede finished the season with 34 'three stars' points and was selected First Star of the Game five times in his 17 starts in net, backstopping Miami to all five of its wins in 2020-21. Persson led all NCHC goalies with a .930 save percentage this season and finished third with a 2.40 goals-against average. His two shutouts tied for second in the conference. Persson was a three-time NCHC Goalie of the Week and the NCHC's December Goaltender of the Month.
ECAC Best Defensive Defenseman Finalist: Pierson Brandon, Colgate (Aberdeen Wings)
Brandon (Irvington, N.Y.) was simply outstanding in his rookie season, skating in all 21 games while anchoring the Colgate defensive unit. He led the team in both blocked shots (30), and plus-minus (+9) despite logging a ton of ice time in every facet of the game. He also helped on the offensive end, recording nine points, including six during league play.
ECAC Best Defensive Defenseman Finalist: Michael Underwood, Clarkson (Aston Rebels)
Underwood (Bloomfield Hills, Mich.) was a stout defensive presence on a Clarkson team that was solid, particularly during league play. The Golden Knights held ECAC Hockey opponents to just 1.73 goals per-game, and were 86% on the penalty kill. The junior surpassed his 2019-20 point total this year in just 22 games.
WCHA Forward of the Week: Ashton Calder, Lake Superior State (Minnesota Wilderness)
Lake Superior State junior forward Ashton Calder led the No. 20/RV Lakers in the final week of the regular season, posting three goals and two assists in three games as the team played a midweek series at No. 17/RV Bemidji State and a single game against Ferris State. The Sault Ste. Marie, Mich., native had at least one point in each of the three games, beginning with an assist on the Lakers lone goal in a 2-1 overtime loss on Tuesday night. The forward responded with his first career hat trick in Wednesday's 5-2 win over the Beavers and notched an impressive nine shots on goal in the game. Calder tallied the primary assist on the Lakers first goal in the team's 2-1 win against Ferris State on Saturday night as LSSU clinched the second seed in the WCHA playoffs with the victory. He led all WCHA skaters in points this week with five as well as goals (three) and was the only WCHA player to record a hat trick during the week. His +5 rating was tied for first among WCHA players and his 15 shots on goal also led the conference. This is Calder's fifth career WCHA weekly honor and his first this season.
WCHA Defenseman of the Week: Will Riedell, Lake Superior State (New Jersey/Austin)
Lake Superior State senior defenseman Will Riedell posted one goal and one assist in three contests against Bemidji State and Ferris State. Riedell notched his first point of the week in Tuesday's 2-1 overtime loss against Bemidji State as he recorded the primary assist on the Lakers' lone goal in the game. The Greensboro, N.C., native scored the game-winning goal while on the power play in the Lakers' 2-1 win over Ferris State on Saturday night, to clinch the second seed in the WCHA playoffs. Riedell was the only defenseman in the WCHA to score a power-play goal this week and was one of two defensemen to score a game-winning goal. Riedell tied for first among defensemen in the conference in points with two and goals with one and led all defensemen with nine shots on goal this week. This is Riedell's third career WCHA weekly honor and second this season.
WCHA Goaltender of the Week: Zach Driscoll, Bemidji State (Austin Bruins)
Bemidji State's Zach Driscoll recorded his first and second shutouts of the season in a sweep of Alabama Huntsville over the weekend. The Apple Valley, Minn., native moved into a tie with BSU greats Jim Scanlan (1978-82) and Blane Comstock (1967-71) for third on BSU's all-time shutouts list with nine. Driscoll led league netminders in games played (four), minutes (238:42), saves (77), GAA (1.26), wins (three) and recorded the only two shutouts by a WCHA goaltender during the week. This is Driscoll's 10th career WCHA weekly honor and his fourth this season.