Wilderness, Steel, Magicians pick up wins on Wednesday
March 4, 2021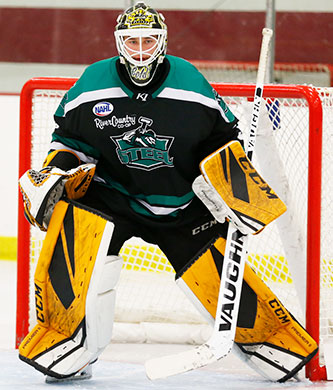 St. Cloud 3 @ MN Wilderness 5 - A back-and-forth affair saw the Minnesota Wilderness beat the St. Cloud Norsemen on Wednesday, 5-3. Midway through the opening frame, St. Cloud took the lead as Hunter Hansen deflected the puck into the back of the net for his second of the season. In the later stages of the period, the Wilderness leveled the game with a Gavin Rasmussen powerplay goal before taking the lead with an Evan Bushy tally. In the third, Charlie Skinner scored his fifth of the season to tie the game at 2-2. A pair of Wilderness goals from Will Traeger and Mikol Sartor gave the Wilderness a 4-2 advantage. Jack Reimann brought the Norsemen within a goal with fifth of the campaign before the Wilderness would regain a two-goal margin from a Zach Michaelis tally.
Austin 0 @ Chippewa 3 – Veteran goaltender Grant Boldt stopped all 22 shots that came his way for his first shutout of the season as the Steel blanked the Bruins, 3-0. After a scoreless 1st period, the Steel potted two goals just :31 seconds apart in the 2nd period to take a 2-0 lead as Jack Brown scored his 3rd of the season, which was followed by a goal from Ryan Waltman. In the 3rd period, Grisha Gotovets would add an empty-net goal to complete the scoring. Spencer Cox also chipped in two assists for the Steel. Bruins goalie Hudson Hodges made 26 saves in the losing effort.
Fairbanks 3 @ MN Magicians 4 – Jack Cronin scored twice to lead the Magicians to a 4-3 win over the Ice Dogs on Wednesday. The teams would trade goals throughout the game. Cronin scored the first two goals for the Magicians, which were answered by goals from Mason Plante and Andrew Garby for the Ice Dogs. Late in the 2nd period, the Magicians took a 3-2 lead on a goal from Simon Falk. The Ice Dogs again had an answer early in the 3rd period as Laker Aldridge scored to knot the game at 3-3. With under five minutes remaining, the Magicians found the game-winner off the stick of Spencer Light. Magicians goalie Darius Bell made 23 saves in the win, while Kayden Hargraves made 30 saves in the loss.