Three NAHL alumni named as Mike Richter Award finalists
February 26, 2021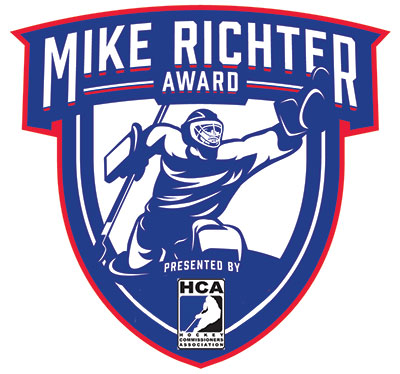 The Hockey Commissioners Association (HCA) has announced the nine finalists for the 2021 Mike Richter Award, given annually to the top goalie in men's NCAA Division I hockey since 2014. The award was previously administered by "Let's Play Hockey" magazine.
Of the nine finalists for the award, three are alumni that previously played in the NAHL before moving onto play in NCAA Division I hockey.
A committee of voters — made up of a cross section of coaches, administrators, scouts and media — will ultimately choose the winner who will be announced in April during the NCAA Frozen Four.
Here are NAHL alumni that are among the finalists
Jack LaFontaine, Minnesota (Janesville Jets, 2015-16)
A Carolina Hurricanes prospect, LaFontaine is in the middle of a spectacular senior season with the Maroon & Gold, ranking in the top five nationally for nearly every individual goaltending statistic. Among regular NCAA goaltenders, the Gophers alternate captain leads the nation in wins (17), sits tied for the national lead in save percentage (.941) and ranks second in goals against average (1.56), shutouts (five) and minutes played (1,272). His 529 saves this season are also tied for fifth nationally.
Dryden McKay, Minnesota State (Corpus Christi/Springfield, 2014-16)
McKay, an All-American last year and the reigning WCHA Goaltender of the Year, was also a finalist for the award last year as a sophomore.McKay, a Downers Grove, Ill., native has been named Western Collegiate Hockey Association Goaltender of the Week three times this year and was the national goaltender of the month for January. Amongst goaltenders who have played at five games, he leads the country in goals against average (1.14) and shutouts (8) and ranks second in wins (15) and is tied for third in save percentage (.941).
Mareks Mitens, Lake Superior State (Aston Rebels, 2016-17)
As a senior, Mitens has started 17 games this season for the Lakers, posting an 8-4-3 record with a 1.89 goals against average and a .934 save percentage. In all but three of his 17 appearances, Mitens has allowed two or fewer goals. Among WCHA goaltenders, Mitens ranks third in goals against average, fifth in minutes played (922:57), fourth in saves (412), and third in save percentage this season. Mitens' goals against average ranks eighth-best nationally and his save percentage stands as 10th best in the nation. The Ventspils, Latvia native earned his 30th career win on Feb. 19 in a 2-1 win over the Alabama Huntsville Chargers which ties him for 10th all-time in program history with Gordon Defiel. Mitens has received multiple WCHA honors this season including Goaltender of the Month (November) and Goaltender of the Week on three occasions.