Chippewa, Danbury and Bismarck win on Thursday
February 26, 2021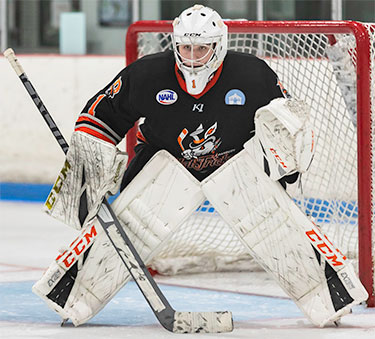 Chippewa 4 @ Janesville 1 – Berk Berkeliev made 31 saves to lead to Steel to a 4-1 road win in Janesville on Thursday. Four different players scored for the Steel, which included two goals from Ethan Benz and others from Braden Lindstrom and Conor Ronayne. The Jets lone goal came early in the 3rd period from Jonah Aegerter. Jets goalie Owen Millward made 18 saves in the loss.
Maryland 0 @ Danbury 2 – Danbury goalie Edward Nordlund stopped all 19 shots that came his way for his first shutout of the season as the Jr. Hat Tricks blanked the Black Bears, 2-0. The game was scoreless until midway through the game as Robert Hyde scored his second goal of the season to put Danbury ahead, 1-0. Late in the game, the Jr. Hat Tricks seured the win thanks to an empty-net goal from Alex Krause. Black Bears goalie Michael Morelli made 36 saves in the loss.
Bismarck 5 @ MN Wilderness 2 – The Bismarck Bobcats stayed hot thanks to a 5-2 win in Cloquet on Thursday as five different players scored. The Bobcats jumped out to an early lead and never looked back. Isaac Henkemeyer-Howe scored in the 1st period to make it 1-0. The Bobcats put the game away in the 2nd period with three more goals from Jack Conroy, Thomas Bergsland, and Ben Troumbly. Bismarck then made it 5-0 early in the 3rd period as Will Magnuson scored. The Wilderness managed to get on the board later in the 3rd period with a goal from Sam Olson and a power play goal from Christian Galatz. Bobcats goalie Tommy Aitken made 27 saves in the win, while Kaleb Johnson took the loss with two saves before being replaced by Jacob Zacharewicz, who made 18 saves.