Bruins double up Steel on Thursday, 6-3
February 19, 2021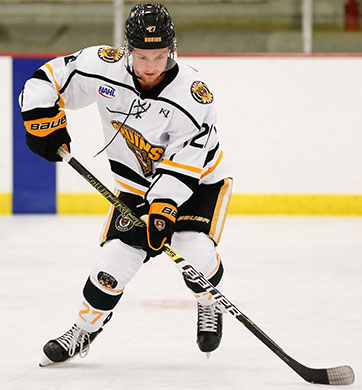 Austin 6 @ Chippewa 3 - The Austin Bruins came from behind to beat the Chippewa Steel in the lone NAHL game on Thursday night, 6-3.
Despite falling down 2-0 in the first period thanks to a pair of Steel goals scored less than a minute apart from Daniel Rozsival and Ryan Waltman, the Bruins persevered. Down by a couple with the final seconds of the opening frame ticking down, Garrett Dahm blasted a shot from the point which squeaked through Chippewa goalie Berk Berkeliev for the Bruins first goal of the game.
In the 2nd period, the Bruins owned the momentum out of the gate but Chippewa quickly regained their two goal lead with a tally from Ethan Benz. Now down 3-1, Austin turned on the jets. They climbed back to within one while on the power-play when Travis Shoudy sent a seeing-eye shot from the point into the back of the net. Just over five minutes later, Peter Jacobs leveled the score at 3-3 with his seventh goal of the season.
The third period, the Bruins wasted no time getting the lead. Barrett Brooks sprung free off the period's opening draw, raced down the ice and lifted a backhander over Berkeliev. Brooks' team-leading ninth goal of the season was registered just ten seconds into the third and gave the Bruins the 4-3. Later in the period, Carson Riddle earned his second point of the night with the Bruins fifth goal of the season, and Garrett Dahm pushed the score to 6-3 with his second goal of the night with 11:29 remaining in the game.
Hudson Hodges earned his second career victory by turning aside 17 of 20 Steel attempts while Berkeliev was handed the loss after surrendering six goals on 32 Bruins shots.