Amarillo defenseman Japchen makes NCAA DI commitment
February 17, 2021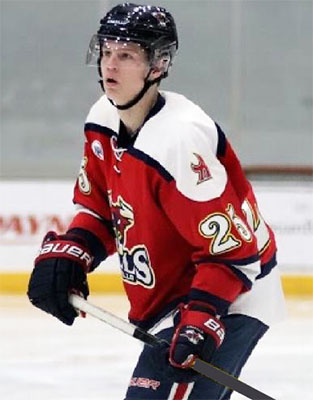 The Amarillo Bulls of the North American Hockey League (NAHL) are proud to announce that defenseman Greg Japchen has committed to play NCAA Division I hockey for Union College where he will play starting in the 2022-23 season.
"I am extremely humbled and excited to announce my commitment to Union College," Japchen said. "Union is an amazing academic institution with a long history of success with the hockey program."
Japchen, 19, is in his first season with the Amarillo Bulls after playing in Canada last year. In 27 games played with the Bulls in 2020-21, Japchen is currently the top goal-scoring defenseman in the NAHL with seven goals and has 15 total points, which ranks in the Top 10 among NAHL defensemen.
"We are very excited for Greg and his family. Union College is an outstanding opportunity both academically and athletically," said Bulls Head Coach Rocky Russo. "Coach Bennett and his staff do an excellent job and will help Greg to continue to develop his game."
The Union College Dutchmen, who play in the Eastern College Athletic Conference, have won the ECAC regular season title four times since 2010. In 2014 the Dutchmen claimed the NCAA DI title with a 32-win season under head coach Rick Bennett.
"We have an excellent relationship with the Union College hockey program and know that Greg will be in great hands," Russo said.
The Bulls defenseman will stay with Amarillo for the 2021-22 season before joining the Dutchmen. Japchen has been a big reason the Bulls have the top power play in the NAHL with a 25.3% conversion rate. Japchen has five power play goals and five power play assists so far this season.
"Playing in Amarillo has helped me to develop both on and off the ice and created an incredible opportunity at the NCAA level," Japchen said. "I would like to thank my parents, family and friends, as well as Coach Russo and Coach Lewis for helping me to reach this goal. I look forward to the opportunity to return to Amarillo next season, in addition to representing the great fans and people of the Amarillo community."
Japchen is the ninth player on the current Bulls roster to make a NCAA commitment. Coach Russo knows that Japchen will continue to develop and play a big role in the Bulls success in the near future. "We are also extremely excited to have Greg return to Amarillo again next season. He will continue to be a huge part of our success both now and in the future," Russo said.
Japchen previously made his NAHL debut with the WBS Knights during the 2017-18 season.
Click here for an updated NAHL to NCAA commitment list