February 11, 2021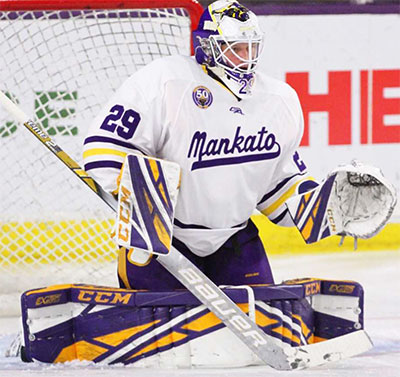 Atlantic Hockey Player of the Month: Colin Bilek, Army (Northeast Generals)
Colin Bilek was tremendous during the month of January, leading Atlantic Hockey in goals and points with 10 and 13, respectively, as he helped Army go 5-3-1 in nine games. Army went 4-2-1 in league play and climbed into a tie for fourth heading into the final month of the season. Bilek had points in eight of nine games and goals in seven of those eight games. His game-winning goal came in a hat trick effort at AIC, handing the Yellow Jackets their first loss in conference.
ECAC Goalie of the Month: Ethan Haider, Clarkson (Minnesota Magicians)
Haider (Fr. - Maple Grove, Minn.) was strong between the pipes for the Golden Knights this month, boasting a 4-2-3 record in his nine starts. He faced 238 shots in January (26 per-game), allowing just 14 total goals for a .941 save percentage. He allowed one goal or less in six of his nine starts.
WCHA Forward of the Month: Brandon Kruse, Bowling Green (Brookings Blizzard)
Bowling Green senior forward Brandon Kruse totaled a team-high 14 points in the month of January, scoring at least one point in nine of the Falcons' 10 games over the course of the month. His best game came on Jan. 29 against Michigan Tech when he tallied four points, including a goal and an assist. The goal in that contest also came on the power play. The Saline, Mich., native also registered two points in each of the first two games of the month, both against Ferris State. With the 14 points, Kruse is now up to 133 career points, which ranks No. 2 on the WCHA post-realignment scoring chart. This is Kruse's second career WCHA monthly award.
WCHA Goaltender of the Month: Dryden McKay, Minnesota State (Corpus Christi/Springfield)
Minnesota State's Dryden McKay appeared in six games during the month of January, led the nation with four shutouts and tied for the most wins with six. The Downers Grove, Ill., native posted a goals against average of 0.50 and a save percentage of .971, both of which ranked second in the nation. McKay had a scoreless streak of 217:37 minutes spanning five games from Dec. 18, 2020-Jan. 16, 2021, that places him 19th on the NCAA all-time consecutive shutout minutes list. The streak is also the ninth-longest in WCHA history. Coupled with his 234:25 streak in 2019-20, he is the first goaltender in WCHA history with two shutout streaks of 200 minutes or more. This is McKay's sixth WCHA monthly honor.
Atlantic Hockey Defensive Player of the Week: Brendon Michaelian, Robert Morris (Amarillo Bulls)
Brendon Michaelian helped anchor a Robert Morris defense that allowed a single goal over two wins against LIU and chipped in three points during the sweep. He had a goal and two assists and blocked two shots in the two games. Michaelian had an assist in Thursday's 4-1 win then added a goal and an assist in Friday's 4-0 victory.
Atlantic Hockey Goalie of the Week: Josh Benson, Sacred Heart (Fairbanks Ice Dogs)
Josh Benson got Sacred Heart back in the win column after their extended layoff with a home-and-home sweep of Bentley. The junior allowed two goals in the two games with 52 total saves. Benson opened the series with a 31-save shutout in Thursday, then came back with 21 saves in a 4-2 win on Friday.
Atlantic Hockey Rookie of the Week: Brian Kramer, Robert Morris (Corpus Christi IceRays)
Brian Kramer matched teammate Michaelian with three points in a pair of wins over LIU. He had three assists, with two coming in Thursday's 4-1 win and one coming the following day in a 4-0 victory. Thursday's two-assist game was his third multi-assist game of the season and he enters the week with a three-game point streak intact.
Hockey East Defensive Player of the Week: Tomas Vomacka, UConn (Corpus Christi IceRays)
Tomas Vomacka (Trutov, Czech Republic) stopped 24 shots and kept Northeastern off the scoreboard in the second and third periods to lead UConn to a 4-1 road win. It was his eighth win of the season.
NCHC Forward of the Week: Cole Koepke, Minnesota Duluth (Minnesota Wilderness)
Koepke had a five-point, four-goal weekend to power Minnesota Duluth to a second straight sweep of Miami. In Friday's opener, the Tampa Bay Lightning draft pick recorded his first career hat trick to lead UMD to an 8-1 win. The next night, Koepke added another two points in a 3-1 victory. He scored the game-winning goal to break a 1-1 tie in the third period on the power play, then added an assist on an empty-net goal to seal the victory. Koepke fired an NCHC single-game record 15 shots on goal in Saturday's win and finished the series with 19 shots on goal, scoring four goals and assisting on another. He ended +3 on the weekend with two of his goals coming on the power play. Koepke is now tied for the NCHC lead with 11 goals this season and has 18 points overall. He sits on a six-game point streak, scoring eight goals in his last five contests.
NCHC Goalie of the Week: Zach Stejskal, Minnesota Duluth (WBS Knights)
In his only start of the weekend and fourth career start, Stejskal backstopped Minnesota Duluth to a 3-1 win over Miami on Saturday, completing a series sweep for UMD. He made a career-high 30 saves in the victory, including 13 in the decisive third period, while allowing only one goal. Stejskal posted a .968 save percentage in Saturday's win (30 saves on 31 shots) and a 1.01 goals-against average. On the season, he has a .951 save percentage and a 1.23 GAA with a 3-1-0 record.
WCHA Defenseman of the Week: Will Riedell, Lake Superior State (New Jersey/Austin)
Senior defenseman Will Riedell led Lake Superior State to a split against Northern Michigan over the weekend. In Saturday's 5-4 overtime win, Riedell recorded a pair of assists as he registered the secondary assist on the game-tying goal and the lone helper on the game-winning goal. The senior would add a goal and assist in the Lakers 4-3 overtime loss on Sunday. Riedell scored a goal with 1:01 remaining in regulation to bring the Lakers within a goal and notched the primary assist on the game-tying goal with 12 seconds left in the game. The Greensboro, N.C., native tied for first among WCHA defensemen in points this week with four and ranked second among conference defenders in assists with three. Riedell finished with a +2 rating and recorded eight shots on goal. This is his second career WCHA weekly honor.
WCHA Goalie of the Week: Dryden McKay, Minnesota State (Corpus Christi/Springfield)
Minnesota State's Dryden McKay stopped all 30 shots in 4-0 win over then-No. 8/8 Bowling Green Friday for his seventh shutout of the season and 21st of his career. The 21 shutouts equals the WCHA career record and ties him for second on the NCAA all-time shutouts list. The blanking was the 16th of his career in WCHA play, which also equals a WCHA record. The Downers Grove, Ill., native stopped 20-of-21 shots in Saturday's 5-1 victory as the Mavericks completed the two-game home league sweep. McKay leads the nation with 0.84 goals against average, .959 save percentage and seven shutouts. This is his 17th career WCHA weekly honor and third this season.