17 NAHL alumni on Mike Richter Award watch list
February 10, 2021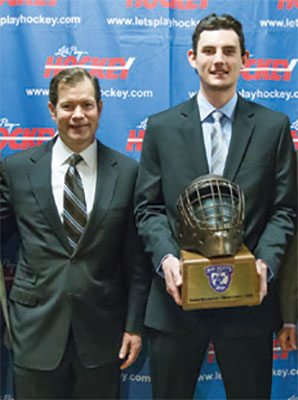 The Hockey Commissioners Association (HCA) has announced a "Watch List" of 35 goalies who will compete for the 2021 Mike Richter Award, given annually to the top goalie in men's NCAA Division I hockey since 2014. The award was previously administered by "Let's Play Hockey" magazine.
Of the 35 goalies nominated, 17 are alumni that previously played in the NAHL before moving onto play in NCAA Division I hockey.
A committee of voters — made up of a cross section of coaches, administrators, scouts and media — will pare this list down to approximately 15 names within the next two weeks and then ultimately choose the winner who will be announced in April during the NCAA Frozen Four.
Here are 17 NAHL alumni that are up for the award:
Michael Corson, Niagara (Springfield Jr. Blues, 2017-18)
Eric Dop, Bowling Green (Minot Minotauros, 2015-16)
Zach Driscoll, Bemidji State (Austin Bruins, 2014-15)
Ryan Fanti, Minnesota Duluth (Minnesota Wilderness, 2017-19)
Erik Gordon, Holy Cross (Fairbanks/Lone Star, 2016-17)
Nicholas Grabko, Bentley (Minot Minotauros, 2018-19)
Jake Kucharski, AIC (Austin Bruins, 2016-17)
Matt Ladd, Canisius (New Jersey Titans, 2017-19)
Jack LaFontaine, Minnesota (Janesville Jets, 2015-16)
Dryden McKay, Minnesota State (Corpus Christi/Springfield, 2014-16)
Mareks Mitens, Lake Superior State (Aston Rebels, 2016-17)
Tommy Nappier, Ohio State (Springfield Jr. Blues, 2015-16)
Ludvig Persson, Miami (Lone Star Brahmas, 2019-20)
Isaiah Saville, Nebraska-Omaha (Minnesota Magicians, 2017-18)
Tomas Vomacka, UConn (Corpus Christi IceRays, 2016-17)
Henry Welsch, UMass-Lowell (Aberdeen Wings, 2019-20)
Noah West, Robert Morris (Jamestown Rebels, 2018-20)