NAHL announces Bauer Hockey Stars of the Week
February 8, 2021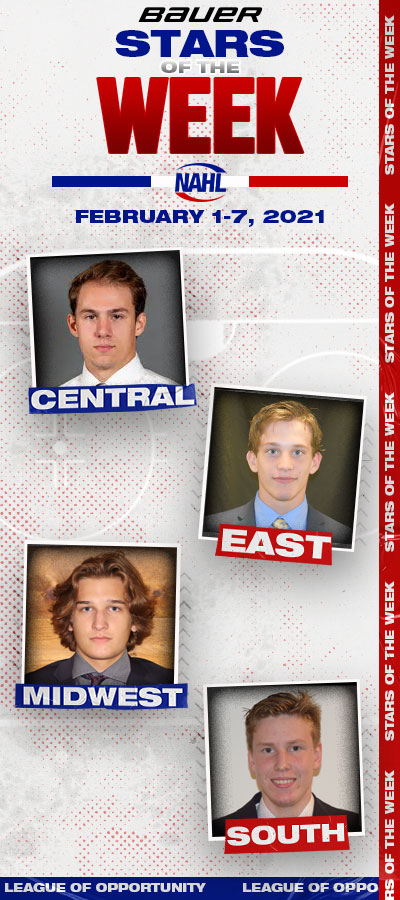 The North American Hockey League (NAHL) today announced the Divisional Stars of the Week presented by Bauer Hockey for the week ending February 7, 2021. The Divisional Stars of the Week is a weekly feature during the 2020-21 regular season that honors the top performing players in each of the four NAHL divisions. Only players that are nominated by their respective teams are considered for the Divisional Players of the Week award.
Watch: Highlights for the NAHL Stars of the Week for February 1-7
Central Division Star of the Week: Tyler Kostelecky, Forward, Minot Minotauros
Minot Minotauros forward Tyler Kostelecky, 19, helped the Minotauros add to their current winning streak with two wins this past weekend against Kenai River. The Arizona State recruit and 5'10/172 lbs. native of Maple Grove, MN, had two goals and two assists in the two wins. On Friday, he had two goals and an assist in a 4-2 win, and on Saturday, he chipped in with an assist in another 4-2 win. For the season, Kostelecky has seven points in five games played with the Minotauros. "We are very excited for Tyler. He's an extremely hard-working kid and I glad to see him get rewarded. He's been a great addition to our team, and I think he is only scratching the surface of his potential," said Minotauros head coach Shane Wagner.
2nd Star: Kaleb Johnson, G, Minnesota Wilderness
Honorable Mention (alphabetical): Braden Costello, F, Bismarck Bobcats – Cullen Fergson, D, Aberdeen Wings – Christian Galatz, F, Minnesota Wilderness – Keenan Rancier, G, Minot Minotauros – Jake Sibell, G, Aberdeen Wings
East Division Star of the Week: Zach Nazzarett, Forward, New Jersey Titans
New Jersey Titans forward Zach Nazzarett, 20, posted five points in two games last week to help the Titans to two wins. The 5'9/165 lbs. native of Cheektowaga, NY, recorded a goal and three assists in a 6-2 win over Danbury on Wednesday, and then posted an assist in a 6-5 win over Johnstown on Thursday. In 12 games so far this season, Nazzarett has recorded 14 points. "Zach has been a big addition to our hockey team since rejoining us before the holidays. He has provided a consistent offensive threat and be a positive leader in our dressing room. Last week he led the way for us offensively and the team was able to collect two big wins. Zach has great vision and poise on the ice and makes everyone else on the ice dangerous. We look forward to having him continue to be a big part of our club down the stretch," said Titans head coach Craig Doremus.
2nd Star: Josh Seeley, G, Danbury Jr. Hat Tricks
Honorable Mention (alphabetical): Nick Seitz, F, New Jersey Titans – Luke Wheeler, F, Danbury Jr. Hat Tricks
Midwest Division Star of the Week: Eli Bowers, Goaltender, Janesville Jets
It was quite the NAHL debut for Janesville goalie Eli Bowers, 19, who was filling in on an emergency basis for the Jets this past weekend in their series against the Chippewa Steel. The 6'4/215 lbs. native of Whitefish Bay, WI, started and won both games he played in, stopping 69 of a total 73 shots against. On Thursday, Bowers, who played earlier this season with the Oregon Tradesmen in the NA3HL, made 38 saves in a 3-2 win in his NAHL debut. On Saturday, he made 31 saves in a 5-2 win. Prior to playing in the NAHL and NA3HL this season, Bowers played his youth hockey in the NAPHL for the Madison Capitols. "Eli had an excellent weekend for us and is getting rewarded for all his hard work. He made some timely saves for us and gave us an opportunity to win both nights, that's all you can ask for in a goalie. To get two wins in your first two NAHL games is impressive. We are thrilled for Eli receiving this recognition, it is well deserved," said Jets head coach Parker Burgess.
2nd Star: Kayden Hargraves, G, Fairbanks Ice Dogs
Honorable Mention (alphabetical): Bret Link, F, Fairbanks Ice Dogs – Charlie Schoen, F, Janesville Jets
South Division Star of the Week: Arseni Sergeyev, G, Shreveport Mudbugs
Shreveport goalie Arsenii Sergeyev, 18, helped the Mudbugs pick up three of a possible four points on the road in their series against the Amarillo Bulls. The 6'3/190 lbs. native of Yaroslavl, Russia, faced 111 shots in the two games and allowed just three goals, making 108 saves. On Friday, he made 63 saves and stopped all three Bulls shooters in a 2-1 shootout win. On Saturday, he made 45 saves and stopped five of seven Bulls shooters in a shootout in a 3-2 shootout loss. In five games played this season, Sergeyev has a .951 save percentage. "Arseni stood on his head in Amarillo. He played a ton of minutes and faced a lot of shots and shootout both nights. Since joining the Mudbugs he's played four very good games on the road in tough buildings (Lone Star and Amarillo). He's a big, competitive goaltender that is continuing to earn his opportunity to play," said Mudbugs head coach Jason Campbell.
2nd Star: Drew Vieten, Forward, Wichita Falls Warriors
Honorable Mention (alphabetical): Marcus Frantz, D, Wichita Falls Warriors – Greg Japchen, Amarillo Bulls – Matt MacDonald, F, Lone Star Brahmas – Owen Nolan, D, Lone Star Brahmas – Andrew Takacs, G, Amarillo Bulls