Minot goalie Rancier makes NCAA DI commitment
February 8, 2021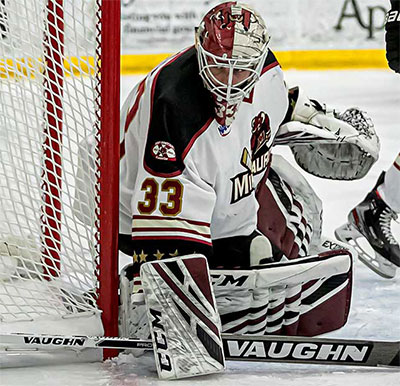 The Minot Minotauros of the North American Hockey League (NAHL) are proud to announce that goaltender Keenan Rancier has committed to play NCAA Division I hockey for Minnesota State University.
Rancier, 20, becomes the Tauros 70th NCAA DI commit, 12th NCAA DI committed goaltender, and third Minnesota State University, Mankato commit.
The 6'2/180 lbs. native of Victoria, BC, has a .920 save percentage, which ranks fourth all-time for the Minotauros and has a 2.98 goals against average and 11-9-2 record so far this season.
He was the NAHL Central Division Star of the Week for the week ending October 12th and the NAHL Goaltender of the Month for October. Through 22 appearances this season Rancier has faced at least 40 shots nine times yet has routinely risen to the challenge posting a .925 SV% in those games including a 46-save shutout of Bismarck.
For Rancier the decision to commit to Mankato was two pronged. First, Rancier has deep respect for the hockey program. "Mankato is one of the best programs in the country with some of the nicest facilities as well. They run a very professional program and treat their players like professionals," said Rancier. Second, aside from the hockey Rancier is excited by the school's location and how the school and city support the team. Aside from opposing shooters, while at Mankato Rancier intends to study business.
"I am very excited for Keenan. He's put in the work and stuck to the process and it's paying off. Mankato is getting a true professional and overall great kid," said Tauros Head Coach Shane Wagner.
"We couldn't be more excited for Keenan and his family. From the moment he arrived in Minot, we quickly realized how special this young man is. His off-ice preparation is unlike anything I have seen in my five seasons. He is mature way beyond his years, and the way he competes every single day is the reason he is where he's at today," said Tauros Assistant Coach Wyatt Waselenchuk.
Waselenchuk, a former goaltender himself, has worked closely with Rancier since his arrival in Minot. "Above all else, he is a world-class human being. Every single guy in that locker room would tell you the same thing. The road for Keenan to get to where he's at today hasn't been an easy one, and it makes this that much sweeter. We are ecstatic for Keenan to be joining a top-notch program like Mankato, and I know they're going to absolutely love him."
Rancier believes his time in Minot was integral to his advancing his career to the NCAA DI Level. "The Tauros gave me the opportunity to play in front of Division 1 scouts and they also helped me develop my game in order to get this scholarship and I can't thank them enough for the opportunity." He continued to share credit for his success, "I would like to thank my parents for always being with me through the ups and downs of this journey, my present and past coaches and teammates who helped me get to where I am today. As well as the organizations I've played with to help me achieve this goal. Lastly all the mentors that I've had and gave me their advice and have guided me through this experience," said Rancier.
Click here for an updated NAHL to NCAA commitment list