February 5, 2021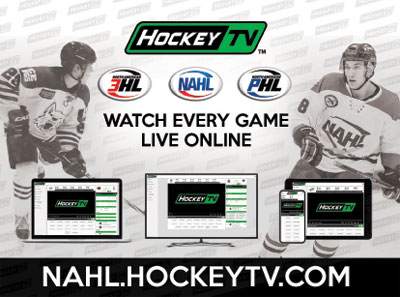 Thanks to a slew of mid-week games, the weekend schedule in the NAHL is lighter than usual, but features some intriguing match-ups.
This week got off to an early start with an early series between Danbury and Maryland, which was split. On Wednesday, New Jersey, St. Cloud, and Fairbanks all picked up regulation wins, and then on Thursday, New Jersey, Janesville, and Shreveport each won their contests.
It was another incredible week for NAHL players and NCAA Division I commitments as seven more players made NCAA Division I commitments, bringing the current season total to 235 players who playing in the league and are committed to playing NCAA Division I hockey in 2020-21.
In the Central Division this weekend, the top two teams look to continue their winning streaks. Aberdeen is back after a weekend off as they put their seven-game winning streak on the line against the Minnesota Wilderness, who are 2-0-1 in their last three games. The Bismarck Bobcats, who are in 2nd place and have won five in the row, travel to St. Cloud on Friday. The Norsemen take to the road after Friday's game against Bismarck to face the Minnesota Magicians on Saturday. The Minot Minotauros are also in action as they cross divisions to face the Kenai River Brown Bears, as are the Austin Bruins, who host the Fairbanks Ice Dogs.
The East Division, which saw plenty of action during the week, is idle this weekend.
In the Midwest, things started early with Janesville beating Chippewa 3-2 on Thursday. The two clubs finish their series in Janesville on Saturday. Kenai River will host Minot for a pair of games and Fairbanks will travel to Austin for a pair of games. The Magicians have just the one game on Saturday as they host St. Cloud.
In the South, it is a full slate of intriguing games as the Amarillo Bulls put their eight-game winning streak on the line as they host the 2nd place Shreveport Mudbugs for two games. The Wichita Falls Warriors put their five-game winning streak on the lone at home as they host the 1st place Lone Star Brahmas. Finally, in Odessa, something has to give as the New Mexico Ice Wolves pay a visit having list their last six straight games to face the Jackalopes who are on an 11-game slide.
Watch all the action on HockeyTV
Download the all new NAHL App today! (iOS - Google Play)
FRI, FEBRUARY 5
Bismarck at St. Cloud - 7:00 PM CST
Shreveport at Amarillo - 7:05 PM CST
Fairbanks at Austin - 7:05 PM CST
Lone Star at Wichita Falls - 7:05 PM CST
MN Wilderness at Aberdeen - 7:15 PM CST
New Mexico at Odessa - 7:15 PM CST
Minot at Kenai River - 7:35 PM CST
SAT, FEBRUARY 6
Chippewa at Janesville - 7:00 PM CST
St. Cloud at MN Magicians - 7:00 PM CST
Shreveport at Amarillo - 7:05 PM CST
Fairbanks at Austin - 7:05 PM CST
MN Wilderness at Aberdeen - 7:15 PM CST
New Mexico at Odessa - 7:15 PM CST
Wichita Falls at Lone Star - 7:30 PM CST
Minot at Kenai River - 7:35 PM CST