Maryland defenseman Hillman makes NCAA DI commitment
February 5, 2021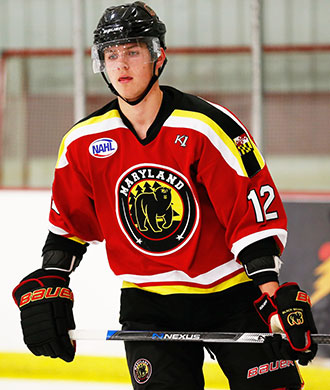 The Maryland Black Bears of the North American Hockey League are pleased to announce that defenseman Jack Hillman has announced his commitment to play NCAA Division I Hockey at The College of Holy Cross in Atlantic Hockey.
Hillman, 19, has played in 52 games through two seasons with the team and has already eclipsed his total points mark from last season. The 6'2/185 lbs. native of Zionsville, IN, has seven points through the first 21 games played so far during the 2020-21 season. Though he is not known for his scoring, he has been a constant at the point for the Black Bears featuring a +5 rating this season, along with a goal and 6 assists.
Hillman is also one of the ice time leaders for the team, averaging over 20 minutes on the ice per game. In 52 career NAHL games, he has recorded 13 points.
"Jack will be a very nice addition to the College of the Holy Cross. He is an elite defender with lots of upside, and not many players skate as well as him. We have had Jack for two years now, and to see how well he has developed, and how much of a good teammate he has been, has been rewarding for the coaches and our program. We are excited for Jack and look forward to seeing him play at Holy Cross next season. He is as competitive as they come, and we look forward to watching his progression, playing NCAA Division-1 hockey," said Black Bears head coach Clint Mylymok.
"I'm proud to announce that I have committed to the College of the Holy Cross to further my academic and athletic career. There are so many people who have helped me along the way. My parents for always supporting me, pushing me to become better as a player and a person, and allowing me to do all the things I've wanted. My friends and teammates as well. All my former coaches but especially Coach Jason Deskins, and Coach Iain Frasier. Most importantly I want to thank everyone in the Black Bears organization for all of their help these last two years. Coach Mylymok and Coach Gotkin always believed in me and helped me achieve my goals. They have a great program, and I am excited to be a part of it. They have taught me so much on and off the ice to prepare me for this next step. Another big thank you to Robyn, our team president who does more than any of us can actually see, and we are all appreciative of that. Thank you to my amazing billet family as well for giving me another home and not just a billet house. I'm looking forward to taking all I have learned in my two years here in Maryland and applying that to become the best student-athlete I can at Holy Cross. I am excited as ever to continue my career at Holy Cross, but will never forget about my time in Maryland," said Hillman.
Click here for an updated NAHL to NCAA commitment list