Titans, Norsemen, and Ice Dogs win on Wednesday
February 4, 2021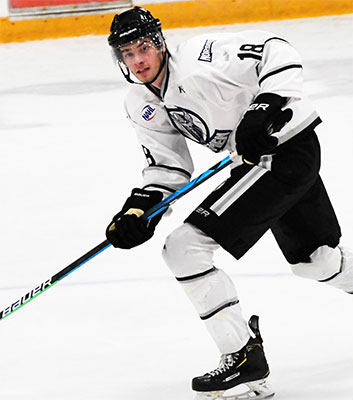 Danbury 2 @ New Jersey 6 – Titans goalie Berk Berkeliev made 51 saves to lead the Titans to a 6-2 home win over Danbury. Evan Werner opened the scoring just 1:48 into the first period for the Titans. Danbury tied the score at 5:30 into the first as Shane Murphy who took a wrist shot that beat Berk Berkeliev long side for his first goal of the season. Midway through the period, Jake Suede gave New Jersey a 2-1 lead. Caleb Price doubled the Titans lead at 3-1 with 2:35 remaining in the first. Thirty-two seconds later Nick Seitz made it a 4-1 game. After a scoreless second period, Zach Nazzarett gave the Titans a 5-1, but Wheeler made it a 5-2game. Seitz closed out the scoring to make it a 6-2. Danbury's goaltenders combined 41 of 46 saves in the loss.
MN Wilderness 2 @ St. Cloud 3 (OT) - Brett Chorske sent the home fans into a frenzy with an overtime goal as the St. Cloud Norsemen defeated the Minnesota Wilderness at Dave Torrey Arena in St. Cloud. In the first period, the Norsemen took the lead as Charlie Skinner netted his second goal of the season with snipe into the back of the net. The second period would see the Wilderness level the game as Mitch Allard scored before the Norsemen's Brendan Kim scored on the powerplay to retake the lead. The Wilderness, again, tied the game in the third period with a Hunter Young goal that would send the game to overtime. With just over two minutes to play in the overtime period, Brett Chorske took a stretch pass up the wall and converted on the breakaway to secure the victory. Norsemen goalie Paxton Geisel made 31 saves in the win, while Jacob Zacharewicz made 25 saves in the loss.
Austin 2 @ Fairbanks 6 – Austin Becker scored twice to help the Ice Dogs snap their losing skid and capture a 6-2 home win over the visiting Bruins. After a scoreless 1st period, the Ice Dogs scored three goals in the 2nd period to open up a 3-0 lead, which included goals from Becker, Bret Link, and Jake Hale. In the 3rd period, the lead swelled to 4-0 as Brendan Murphy scored. Austin tied to make a game of things later in the 3rd period with goals from Peter Jacobs and Barrett Brooks, but another goal from Becker and a late goal from Mason Plante secured the 6-2 win. Kayden Hargraves made 16 saves in the win, while Tyler Shea made 38 saves in the loss.