January 27, 2021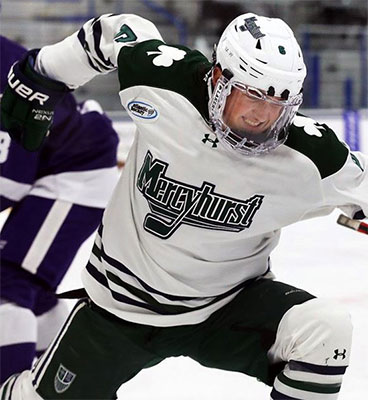 Atlantic Hockey Rookie of the Week: Carson Briere, Mercyhurst (Johnstown Tomahawks)
Carson Briere was second behind his teammate Austin Heidemann in rookie scoring in Atlantic Hockey last week, registering three points on a goal and an assist as the Lakers swept Robert Morris. He had a hand in both regulation goals for Mercyhurst in Tuesday's 3-2 win, scoring once and assisting on the game's first goal. Briere had a single assist in Saturday's victory. He too finished plus-4 and had two blocks.
ECAC Goalie of the Week: Ethan Haider, Clarkson (Minnesota Magicians)
Haider allowed just four goals in three games against No. 10 Quinnipiac this weekend, boasting a 1.28 GAA and .954 save percentage. He had two performances of 30+ saves, and stopped three of three in Saturday's shootout, allowing the Golden Knights to pick up the extra ECAC Hockey point.
WCHA Defenseman of the Week: Kyle Looft, Bemidji State (Austin Bruins)
With three points (1g-2a) this season and seven points (1g-6a) in his career, Kyle Looft helped lead Bemidji State to a non-conference series sweep of then-No. 5/5 Bowling Green, Jan. 21-22, with an assist in each game. The BSU defensive unit held the Falcons at bay allowing just two goals in the series. Saturday, while BSU was on the power play, the Mankato, Minn., native made a potential game-saving block late in the third period to stop a short-handed, game-tying attempt by the Falcons on a virtually empty BSU net. In addition, the BSU penalty-kill unit was a perfect 4-for-4 on the weekend. This is Looft's second career WCHA weekly honor.
WCHA Goaltender of the Week: Zach Driscoll, Bemidji State (Austin Bruins)
Senior Zach Driscoll led Bemidji State to a home non-conference sweep over then-No. 5/5 Bowling Green Jan. 21-22. The Apple Valley, Minn., native allowed just two goals in the series and backstopped a BSU penalty-kill unit that was a perfect 4-for-4. After posting a 25-save victory in Thursday's 2-1 victory, Driscoll stopped 32 shots on Friday as the Beavers completed the sweep with a 3-1 win. This is Driscoll's seventh career WCHA weekly honor.
Nashville Predators President of Hockey Operations/General Manager David Poile announced that the team has recalled former NAHL goaltender Kasimir Kaskisuo (Minnesota Wilderness) to the taxi squad from Chicago (AHL). Kaskisuo, 27, made his NHL debut with the Toronto Maple Leafs on Nov. 16, 2019 at Pittsburgh and appeared in 27 games with the AHL's Toronto Marlies in 2019-20, his fourth full professional season. Last season with the Marlies, the 6-foot-3, 194-pound goaltender won a career-high 14 games and recorded a 2.79 goals-against average, .909 save percentage and one shutout. In 95 career AHL performances with Toronto and the Chicago Wolves, Kaskisuo is 46-32-10 with a 2.65 goals-against average and eight shutouts, including a career-best four during the 2018-19 season.